A child will go through an estimated 6,000 nappies by the time they are toilet trained - Mike Cotton spoke to a new mum and a waste management boss at the council to find out why switching to reusable nappies pays.
BARNSLEY Council will give parents £40 paid into their bank account if they switch disposable nappies for reusable cloth nappies - but only a handful of people take up the offer.
The council says the average child will use between 4,000 and 6,000 nappies with the cost of disposable nappies estimated at £1,500 per child.
New mum Jamie Marsh spotted online that it was Real Nappy Week last week and came across Barnsley Council's Real Nappy Incentive Scheme. It pays a one-off grant of £40 to any Barnsley resident towards the purchase of a pack of birth to potty cloth nappies, as long as they spend a minimum of £100, fill in the claim form within six months, and supply a copy of their receipt.
Jamie had already come by one set of second hand but never-used cloth nappies and was unsure whether she would bother using them.
But having used them for a week she now plans to take the grant and buy a complete set.
"I was really surprised just how easy they are," said Jamie, 31, of Gawber Road, whose daughter Iris is three months old.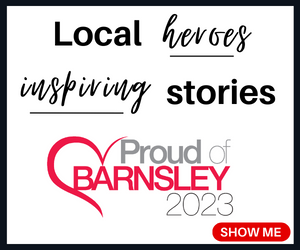 "We used disposables at first. We're not eco-warriors particularly, but there has been so much in the media about the amount of plastic waste, and it does make you think about it.
"Our grey bin was overflowing with the number of nappies."
Modern so-called 'real nappies' are pretty much the same size and shape as disposables, and because of their Velcro fasteners or poppers, one size fits all from birth to potty training.
They can be used with washable absorbent liner inserts, which Jamie says are fine on their own while she's breast-feeding, but expects when Iris moves onto solid food, she will probably opt to add in the flushable paper liners.
"We don't have to do any soaking or anything, we just pull the liner out, drop that and the nappy into a bin with a lid, or into a sealable bag if we're out and about, and then at the end of the day, throw the whole lot in the washing machine.
"We've got a washable bag inside the bin, so we don't even have to touch them again, they can all go in the machine inside the bag together. We leave them to dry overnight and that's it.
"I thought it would be a lot more hassle.
"There are cheaper ones, but the cost of a full kit we looked at including the bin, wash bag, all the liners, is £300," said Jamie.
"They can be used again if we have a second child, so if disposables cost £3,000 for two children, we could potentially save £2,700, less the cost of washing.
"But with the amount of plastic in disposable nappies, the environmental cost was as much of an incentive."
The idea behind the £40 grant is to reduce the amount of waste which ends up in the grey bin.
Dale Sparks, the council's head of commercial support services, said there had been very little take-up on the nappy offer.
"We only get about half a dozen a year," he said.
"Nationally a lot of nappies end up in landfill, but actually in Barnsley, they don't anymore. They end up going through our waste treatment plant at Manvers and end up getting used to generate electricity. But reducing the amount of waste we create is a benefit to the council and a benefit to the environment."
At the Manvers plant rubbish which cannot be recycled goes through a combined mechanical biological treatment plant and a dry anaerobic plant, which helps break it down as much as possible and turns the remaining waste into a fuel which is sent to Ferrybridge where it is used to generate low-carbon electricity.
"A really important point is to make sure people put things in the right bin," said Dale, who last month revealed disposable nappies were among the items sometimes wrongly put into the blue recycling bin.
"If the real nappy scheme isn't for you, disposables don't go to landfill, they will be turned into electricity. But only if they go in the grey bin. They must not go in the blue bin."
To claim the £40 grant click here.