TWO friends from Barnsley, who have been shortlisted for a Proud of Barnsley award, have raised more than £13,000 for Barnsley Hospice.
Gavin Coles, 40, and Steve Gilbert, 46, started fundraising last year in memory of Gavin's wife's nannan who spent her final days in the hospice.
The pair decided to partake in a range of extreme challenges with a target of raising £3,000 in 12 months.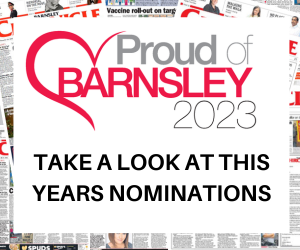 Gavin said: "The challenges were due to be completed in June, but it's now October and we are still going. The amount we have raised has exceeded all expectations and the whole experience has been great, if not a bit emotional.
"It started off with me and Steve and we called it Little and Large's 12-month challenge, but then it just snowballed with everyone getting stuck in.
"When we did a bike ride, people who were cycling that day would message and say we'll join you, family I'd not spoken to in years mucked in and helped us.
"When I found out we had been nominated for a Proud of Barnsley award I was really shocked, because I don't think it should go to us, we're just daft lads from the tarn, I think it should go to the hospice who do amazing work for the patients."
Steve joined Gavin with the fundraising as he said from personal experience he knew that the money would be well used.
He said: "I knew how much his wife's nannan meant to Gavin and I've had a few grandparents use hospices. I know how much money they need. The fundraising came at a time when I wanted to give something back as I had just lost my dad and I felt it was time for me to give a bit back."
The pair have taken part in several obstacle runs, cycling challenges, a bungee jump, a boxing match, a racing night and much more to raise the £13,000.
Bethan Gledhill, community fundraiser for Barnsley hospice praised the pair for their hard work.
She said: "The support that Gavin and Steve and their families have shown to us over the 18 months has been outstanding. As well as raising an incredible £13,000, their enthusiasm and commitment to their fundraising activities has been amazing, and they've really flown the flag for the hospice along the way.
"Thanks to them, not only are we able to use the money to continue our care, but more people in Barnsley are now aware of what we do and how we can help them. We're extremely grateful."