Megan Wallace explores the Barnsley Chronicle archives from 1995.
LITTLE Elinor Bailey's written words hit the right note with her teachers.
They were so impressed with her story, they decided to transform it into a musical.
Elinor, nine, of Kingstone, pictured with teacher Andy Platt, is a pupil at Ward Green Primary School, where she wrote about working children in the Victorian era.
And ever since fellow pupils have been auditioning and rehearsing a musical based on the story, 'Freedom Road'.
Headteacher John Wright said: "Elinor's use of language was quite exceptional. She is a very talented pupil."
BRITISH Legion volunteers are preparing themselves for a new battle - persuading Barnsley folk that their organisation is not just about old soldiers, medals and war wounds.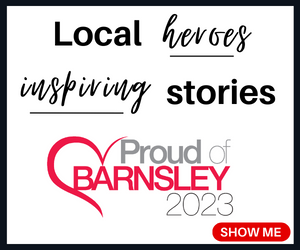 The local branch says that once the festivities surrounding VE and VJ Day are over, people may forget about the valuable job the Legion does.
Every year, it provides financial and practical help to thousands of ex-service personnel and their families.
The Legion has spent around £500,000 of Poppy Appeal money in Barnsley during the last five years - more than has actually been contributed.
Former army catering corps member, Glen Hawcroft, would probably be on the dole had it not been for an interest-free loan which the Legion managed to fix up for him.
The 33-year-old used the cash to set up the 'Sporting Moments' shop in Wombwell.
A SMALL electronic gadget is set to become big business for computer expert Owen Gleadall.
His new electronic till gives corner shops or small businesses as much management
information as Britain's retail trade gets from their mega systems, yet fits into a small space.
He set about designing a small computerised system when he recognised the large systems were too expensive and cumbersome for the small business.
The prototype was unveiled at a Birmingham retail exhibition and since then his eight-man Barnsley business has been inundated with enquiries.
Mr Gleadall runs Cipherlab Systems with his wife, Vickie, and partner Melvin Bailey, from the Barnsley Business Innovation Centre.
THEY'RE the tops. And to prove it Gilroyd Tenants' and Residents' Association collected a £1,000 cheque from minister James Arbuthnot.
The association is joint winners of the Barnsley Crime Prevention Partnership's Good Neighbour Award.
Since starting 18 months ago, the TARA has tackled local eyesores, and raised money through coffee mornings, galas and bingo for football training, swimming lessons and first-aid courses for youngsters.
Social events have also been organised for the elderly, and keep-fit sessions, outings to the coast and healthy eating campaigns arranged.
BARNSLEY had a touch of Big Brother and liked what it saw.
Hundreds of shoppers, including Mayor and Mayoress, Coun Clive and Mrs Sheila Cawthrow, got a bird's eye view of a crime-busting closed circuit television camera and high-tech monitors during a town-centre display.
And it has fuelled hopes that the much-delayed CCTV scheme could be up and running by 1996.
In less than a week, £5,000 has been raised towards £50,000 needed by the end of the year to unlock the £1.5 million worth of government, Barnsley Council and South Yorkshire Police Authority cash needed to set up the system and pay its running costs over the first six years.