FOOTBALL fans' tributes have flooded in for a Barnsley supporter who lost his life while watching his beloved Reds at Oakwell on Wednesday night.
The Chronicle understands 66-year-old Jeffrey Wroe fell ill about ten minutes before the full-time whistle, which saw emergency services rush to the stand where he had been watching - known as the Ponty End - in the latter stages of Daniel Stendel's side's 2-2 draw with Derby County.
Fans from clubs across the country took to social media to pay tribute after the harrowing incident, which saw protective sheets put up in an attempt to give Mr Wroe and paramedics a degree of privacy while CPR was being administered.
Some had suggested the game should have been abandoned out of respect, but treatment continued in the stand as fans just yards away from where Mr Wroe was stricken were left in an awkward position when Cauley Woodrow went on to equalise for the Reds minutes later.
Those who knew Mr Wroe said he was a regular at Oakwell and was a retired firefighter. A Just Giving page was set up yesterday in order to raise money for his funeral which has seen players including Woodrow, Alex Mowatt, Sami Radlinger and Toby Sibbick donate.
A statement from Barnsley Football Club said: "The club is deeply saddened to learn of the passing of a supporter at Wednesday night's fixture against Derby County - 66-year-old Jeffrey Wroe was treated by emergency services at Oakwell towards the end of the match, but devastatingly was unable to be revived.
"The club has been liaising with and will continue to support the family and friends of Mr Wroe through this exceptionally difficult time, while asking for their privacy to be respected."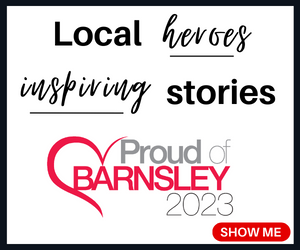 Before the kick-off Barnsley fan Steve Croft - who had a heart attack at Oakwell last September before the Reds' match against Burton Albion - presented staff from the Yorkshire Air Ambulance who helped save his life with a cheque for £13,834 following a year of fundraising.
Steve, from Royston, spent two-and-a-half weeks at Northern General Hospital in Sheffield and was fitted with an implantable cardiac defibrillator (ICD).
He told the Chronicle yesterday that the incident has hit his family and fellow supporters 'like a ton of bricks'.
"It's deja vu and I can't believe it was almost a year to the day since my cardiac arrest and that it coincided with the cheque presentation," Steve added. "The evening started so nicely, but it turned into a horrible night.
"I just feel so sorry for the man and his family and I would like to send condolences. I am talking to the club about sending a letter or message to them if it's appropriate.
"It makes me appreciate how lucky I am but my main feeling is just sadness because of what has happened.
"To see the red blankets being held up by the stewards, it was very similar to what happened to me. Yet again the fans showed how good they are and their reaction was outstanding.
"It affected my wife, Linda, quite a lot because it brought back very bad memories. For me it was the first time I had seen anything like it, because I wasn't aware when it was happening to me.
"It hit us all like a ton of bricks. We just sat in silence at home for a long time and it was after midnight before we went to bed."
Steve praised the response of the emergency services, but said the first priority had to be giving Mr Wroe treatment and not necessarily calling the game off.
"It's a difficult one to call but I don't think you can make a judgement on it unless you were involved at the scene and have all the facts," he said "It's very different to my incident, which was pretty much on the pitch and at the start of the game.
"The first priority had to be to give him the treatment he needed, nothing else. I don't know if the players and referee were aware of what was happening. Most people I have spoken to have been praising the staff and the club for their reaction, so I wouldn't judge them for not calling the game off.
"There are really good plans and systems in place to look after anyone who gets into difficulties at Oakwell, whether it is a player or a fan. It's not easy for anyone to deal with - the medics, the club staff or the stewards who were holding up those red blankets for the second time in 12 months which can't have been easy."
Visit justgiving.com/crowdfunding/jeffreywroeoneofourown to donate.