A MAN who was touched by the care his seriously ill father received while in hospital with sepsis has raised funds for The UK Sepsis Trust and Barnsley Hospital by hosting a night of gigs.
Last December, Josh Hinds' dad Gary became ill with what he thought was a common cold.
However, as his condition worsened, Gary, 51, was rushed to hospital after experiencing breathing difficulties, and it was soon discovered that he had sepsis.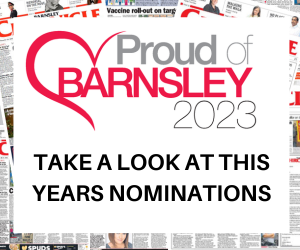 Sepsis is a life-threatening condition where the body attacks itself in response to an infection which can prove fatal in 20-35 per cent of people and in 70 per cent of people who suffer from septic shock.
"It all happened so quickly," said Josh, 23, from Kingsway, Wombwell. "We just thought he had a regular cold and the next thing he was in intensive care, and fighting for his life."
Gary's organs began to fail as a result of septic shock which was caused by pneumonia.
He was given just 24 hours to live as a result of the severity of his illness and placed in the intensive care unit (ICU.)
"That was the worst night of my life, everything was moving so fast and knowing that my dad might not wake up was heartbreaking," said Josh.
Gary spent five weeks in a medically-induced coma in Barnsley Hospital's ICU.
In January, doctors made the decision to amputate 10cm below each of Gary's knees and to allow his fingers to 'auto-amputate' as lack of blood-flow to his extremities had caused irreversible damage.
"His legs and fingers turned black," said Josh.
"It looked like frostbite. They had to leave his fingers for six months to kind of drop off so they were all bandaged up for a while."
Now, Gary is infection free and adjusting to his life with prosthetic legs.
However, Josh discovered that his dad was the only patient to survive out of four that were admitted at the same time with sepsis.
Inspired by his dad's fight-for-life, Josh set about trying to raise awareness about sepsis and to raise money for both The UK Sepsis Trust and Barnsley Hospital Charity to recognise the care his dad received while he was a patient there. He has also nominated Barnsley Hospital's ICU for the care his dad has received.
"I think it's important to raise awareness about sepsis," said Josh.
"If people know what symptoms to look for, sepsis will get recognised earlier and that person stands a stronger chance of survival."
Josh has so far completed a 100-mile sponsored walk alongside his friends which raised more than £1,500 for charity and also held a charity band night in Old No 7 Barnsley on September 13 - which was World Sepsis Day.
The event featured a host of local bands including Perfectparachutepicture, Death Store, Tom Jackson, and Frank Grimes and the Disasters, who launched their latest EP.
"The whole thing went really well," said Josh. "It was the first time I have done anything like that, especially organising my own gig and doing it for the community. I was so anxious, but as soon as the doors were open the venue was full of people coming in to watch.
"Combined with a bit of fundraising my sister did - she did a bake sale at school and raised £170 - we had raised just over £600. We had lots of positive responses from people and the event educated people about sepsis. I mean, I had no idea about it before what happened to my dad and I had no idea how dangerous it is.
"I hope I will at least save one person's life and raise awareness of sepsis."
Josh said his dad has now recovered from sepsis and it will soon be a year since he was rushed into hospital.
"It's going to be weird when it comes to the time when my dad was in hospital and it will be strange being back together this year for New Year's Eve as he was in hospital then - but we are looking forward to it," said Josh.