A CHRISTMAS festival with music, fun and food is coming to Dodworth on Sunday.
Professor Joann Fletcher (Barnsley's Egyptologist) will be officially opening the event at 2pm. There will be performances from Dodworth Colliery MW Brass Band, choir group Local Vocals and band Free Radicals performing on the main stage in the Dil Raj car park.
When walking around the village, people will be able to listen to the Barnsley Percussion Ensemble and a town crier. There will be Santa and Mrs Claus and their elves who will be in their grotto in the library and Santa will be travelling down High Street on his sleigh at 4pm.
There will be 45 stalls with handmade jewellery, crafts and more as well as homemade buns, a hog roast and cakes. There will also be fairground rides for children in the doctor's car park.
The event was organised by Dodworth High Street Events Group and all money raised from this event will go to next year's event.
As well as the festival, there will be a big Dodworth raffle, with lots of donated prizes as well as a Barnsley FC shirt, that will be drawn at 4.45pm.
William and Julia Shaw Jewellers have a special charity raffle for their 20th year in business, with the main prize being a diamond necklace designed and made by William. BBC Radio presenter Stephanie Hirst will be drawing the raffle at 4pm in the shop.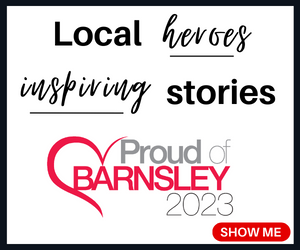 Rachel Collier, of Dodworth High Street Events Group, said: "It's the third year for the festival but the first organised by new community group Dodworth High Street Events Group.
"We have been fundraising throughout the year and the festival wouldn't have taken place without the help, time and support of the Dodworth Ward Alliance, local shops, businesses, volunteers and community of Dodworth."