AN artist who is awaiting a heart transplant is proud after an exhibition put his work on display for the first time.
Mick Sheard, 60, has always been interested in art but his hobby became his lifeline when a period of bad mental health left him seeking a means of escape.
"When I was off work while struggling with my mental health, drawing became really therapeutic for me," said Mick, of Upperwood Road, Darfield.
"I always used to draw with my children but when I became confined to the house, drawing was really the only way of escape for me.
"I used to just sit at the dining room table for days on end just drawing, and my drawings really showed my mood and how I was feeling at the time."
Mick draws animals using colour pencils and charcoals but says he never plans his artworks and he instead creates drawings that reflect his mood and how he is feeling.
"I hated art at school because they always wanted you to draw a wine bottle or a bowl of fruit," said Mick. "That's why when I am drawing I just let myself do what I want because it's more relaxing."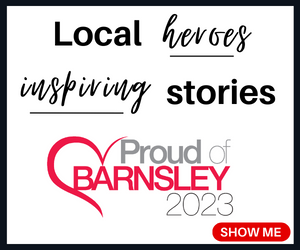 Last March, Mick suffered a cardiac arrest which has left him unable to work and awaiting a heart transplant.
"With my mental health, I struggled with panic attacks," said Mick.
"One day in March I woke up with a tight chest and I thought I was having a bad panic attack. It felt as though my chest was pumping out of my body and I was sent home from work as soon as I got there because I didn't look well. I asked my wife, Jackie, to get the crisis team out because I still thought it was a panic attack but she took me to the GP and they called an ambulance for me."
Mick suffered from dilated cardiomyopathy, where the walls of his heart became stretched and thin, meaning they could not contract properly to pump blood around his body. While he was in hospital, Mick suffered from pneumonia which resulted in the collapse of both of his lungs.
"When my heart failed, I lost everything," he added. "I am unable to work, lift heavy objects or go to the gym which I have done for 17 years. I died twice while I was in hospital so when I came out, drawing was the only thing I had left."
Mick began creating more art which he says helps him through the frustration of waiting for a transplant. Before Christmas, he was contacted by local artist Peter Olding who helped Mick to display his work in the Raven Gallery, which is based at Mexborough Resource Centre.
"It does make me quite proud that my work is on display, especially after everything that has gone off over the past few years," he added.
"Some people have bought the paintings that are on display and others have asked for me to draw their pets and such which is a great feeling.
"If I look at my drawings I pull myself down but other people think they are good and I feel like I've achieved something."
Mick is hoping the exhibition will lead to more opportunities to display his artwork in the future.
His artwork will be on display in the Raven Gallery until February 3.