BARNSLEY Football Club have been fined and told to improve their anti-discrimination protocol having been warned over 'inappropriate comments' made after their game against Stoke City on November 9.
The Reds have been fined £20,000 by the Football Association's independent regulatory commission and must pay £2,250 in costs, while they have been given a 15-point 'action plan' which the FA would like to see start this season but must be in place throughout next season.
Chanting towards Stoke player James McClean, by a 'significant number of individuals', was found to include 'Irish b******d', 'f*** the Pope' and 'f*** the IRA' throughout the first half from the Pontefract Road End and East Stand.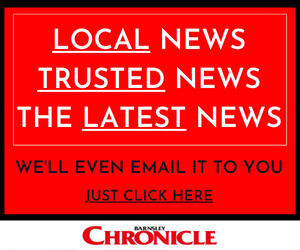 McClean, who is from County Derry in Northern Ireland, refuses to wear a poppy at matches around Remembrance Day, like most footballers do, because he 'regards the poppy as a symbol which honours not just British military personnel killed in the First and Second World Wars, but in all conflicts in which British military personnel have fought, including in the North of Ireland', according to the report.
Peter Clegg, Barnsley's deputy safety officer, reportedly said after the game that McClean 'should be used to it now'.
The referee Jeremy Simpson reported that comment as 'unacceptable and inappropriate' while the report called it a 'serious aggravating factor' in their decision.
The report adds the club has accepted Clegg's words were 'wholly unacceptable and inappropriate' and that he has been warned as to his future conduct and instructed to undertake an 'equality and diversity course'.
But the report adds: "We do have concerns as to his suitability to hold a role of responsibility at the club."
The report praised Barnsley's guilty plea and previous good record as well as the steps they have taken since the incident.
The panel was satisfied that the chanting 'was the result of circumstances over which the club had no control' but that Barnsley FC had failed 'by a very considerable margin' to comply with FA rules and 'use all due diligence to ensure that its responsibility was discharged'.
The report found that, in preparation, the Reds did 'nothing over and above what it did for any other match' and safety officer Steve Bailey explained that they felt that doing so would draw attention to the matter and increase the risk of abusive language or behaviour.
The club abandoned plans to have the teams led out onto the pitch by military personnel and to include them in a pre-match guard of honour over fears that McClean 'may refuse to engage with this process and thereby antagonise the crowd'.
Twenty stewards were deployed but the report highlighted an eight-minute delay in doing so and pointed out that the staff had not been told why they were being moved there, while there was no announcement condemning the chanting.
The club has been told to 'develop ongoing positive dialogue' with Kick It Out - a body formed to rid abuse from football - as well as 'additional supporter and steward educational programmes'.
They have also been told to evaluate their CCTV capabilities and operator training and establish a 'anti-discrimination task force' comprising members of Barnsley Council, club supporters groups and Bailey, to be chaired by chief executive Dane Murphy.
The club has been told to show clearer anti-discriminatory messages on signage in and near the stadium, on the big screen and advertising hoardings, in PA announcements before and during the game, on the club's website and in the club's programme.
A club statement read: "Barnsley Football Club has a zero tolerance policy on any form of discrimination and as such, are immensely disappointed to have been found guilty of violating FA rulings.
"The club will act upon the case findings and will continue to work closely with the FA and Kick It Out. Anybody found to be involved in any form of discriminatory behaviour when representing the club face a potential ban from attending matches."