POLICE are attempting to cope with a spike in thieves apparently looking to take advantage of businesses being closed due to the coronavirus outbreak, the Chronicle can reveal.
An increase in reports of burglaries, particularly at small local premises, has led Barnsley's neighbourhood teams to roll out priority patrols in identified hotspots, and offer crime prevention advice to owners of potentially vulnerable businesses.
Inspector Rebecca Richardson said the focus was on preventing further crimes following a marked rise in the number of reports of burglaries after many businesses were forced to close in March.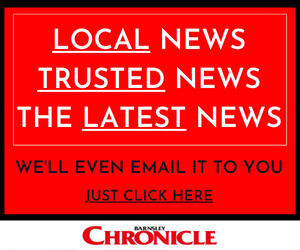 She added particular attention was being paid to the town centre and Hoyland areas - the latter being the location of three break-ins last weekend.
The first, at 3.50am on Monday, occurred at Lineside Repairs on Armroyd Lane when police were alerted by an alarm.
According to officers, the offenders gained access through the roof and reportedly came away with a bank card.
Further incidents were reported at Staniforths on King Street, and The Market pub in nearby Elsecar.
"So far in March we have experienced increases in business burglary, with small businesses such as hair salons, small cafes and charity shops being targeted in the main," said Insp Richardson.
"This is particularly the case around Barnsley town centre and Hoyland.
"The likely cause of this is businesses closing during the COVID-19 pandemic.
"Our focus is around prevention and detection of the crimes and I would like to reassure residents that there is a plan in place to reduce acquisitive crime. This plan incorporates a number of tasks for various police departments.
"There is a patrol plan in place, directing high visibility patrols in hotspot areas at key times.
"These areas are a priority patrol location, which means neighbourhood, response and CID officers default to the area to conduct patrols."
Insp Richardson added that visits and curfew checks were also being carried out on known offenders.
Advice issued by police to business owners who may be worried includes testing alarms, lighting and CCTV to ensure they're working, securing and alarming any windows and roof openings, removing any climbable objects and ensuring doors and hinges are solid and not able to be tampered with.
Several arrests have been made this week following suspected break-ins.
A 21-year-old woman and 40-year-old man were arrested at CherryCakes Bakery on Midland Road, Royston, at 2.51am on Tuesday.
A 46-year-old man was arrested on Sunday night at Aqua Fish Bar on Blacker Road, Mapplewell.
Thieves have also reportedly targeted a Hoyle Mill warehouse and allotments off Racecommon Road.
Insp Richardson added that it was 'vital' that people continue to report crimes during the current 'lockdown' period.
"We always need the support of the public," she said. "It is vital that the public report any information through the various channels, such as Crimestoppers or the local neighbourhood team email address.
"I also urge the public to continue to report suspicious behaviour."