NEW Netherwood principal Jonny Mitchell is more than happy to talk about his past life as a television star.
The 47-year-old became a household name - and even an unlikely heart-throb - over the course of Channel Four's Educating Yorkshire, the award-winning 2013 documentary which followed his headship at Thornhill Community Academy in Dewsbury.
Attention on Thornhill, once languishing near the bottom of the national league tables, grew almost overnight - with viewers inspired by stories such as that of Musharaf Asghar, who overcame his stutter to deliver an emotional speech to classmates in front of the cameras.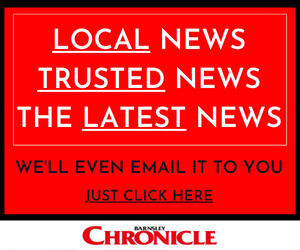 But Jonny, who takes over at Netherwood in September, admits his memory of the series is 'a little bit feint'.
"It was filmed seven years ago - in many ways it feels like a lifetime ago," said the father-of-three from Dewsbury.
"As much as a lot of people will remember it, some won't and their kids definitely won't. I still see it as a positive experience and I would never not want to talk about it.
"I'm proud of Educating Yorkshire. It's something I will be able to say until my last breath.
"You learn a lot about yourself looking back like that - and not just the horrible ties and shirts I used to wear.
"The series is very much part of Thornhill and there's a legacy there.
"The whole franchise did a great deal for the teaching profession.
"It opened the public's eyes to something they'd only experienced 25 or 30 years ago."
In 2015, after four years at the school, he took over at the Co-operative Academy in Leeds before coming to Barnsley.
Jonny admits it's 'always with a heavy heart' that teachers move onto other roles, but his time at Thornhill - now run by his former deputy and 'good pal' Matthew Burton - remains a highlight of his varied career. A former legal translator, the post was his first headteacher role after he retrained.
"Teachers up and down the country perform miracles every day," he added.
"You find every child has a story, and it's great when they find their voice. We were lucky on Educating Yorkshire that we had dozens of cameras capturing those moments."
The head received some criticism for his 'firm but fair' approach once the programme aired - and while he said he does believe in a 'restorative' approach, working with badly- behaved pupils is not something that can always be captured by television cameras.
"A programme is 1,000 hours of footage squeezed into eight or nine hours," he said.
"Some things stay away from the cameras.
"If a relationship is damaged, it's not always a case of having one sit-down chat with a child, as it appears, and that's it.
"Restoring that relationship takes time. It's about having high expectations, but not expecting kids to behave well all the time. I'm a parent, and parents at home will know that kids misbehave sometimes.
"Multiply that by 300, and that's what you're looking at every day.
"But kids do know when you care about them and have ambitions for them. We're there to make sure they leave the restraints of the school environment as good citizens when they go on to college and university."
The incoming head's hand-over period has been affected by the lockdown, but he said he visited the school earlier this year and has since been liasing with staff remotely.
Despite hailing from West Yorkshire, Jonny is a patron of Barnsley Youth Choir and has been involved with Penistone Arts Week - and knows Barnsley 'as well as anybody else who doesn't live there'.
"There will be work to do, as for any head coming from the outside rather than within," he said.
"It's a community school, and the community needs to be proud of what's going on there."