IN the first in a series of interviews with up-and-coming talents from the local music scene, Luke Watson speaks to Good Nothings about new beginnings and why Barnsley might be the ideal place for them...
Good Nothings know that taking yourself too seriously only leads to disappointment.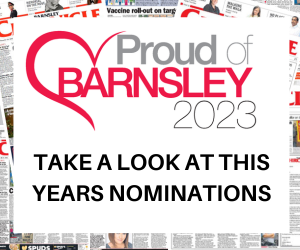 But underneath an exterior that stresses simplicity above all else, there's a core of hard-won experience and enthusiasm driving the rock band influenced by 1980s giants like Guns N' Roses and Ozzy Osbourne.
Started by two Barnsley musicians in early 2018, the band looked set to be another successful local project helmed by Matt Williamson and Ryan Nunwick.
"We've grown up together, me and Ryan," said 29-year-old bass guitarist Matt.
"We formed Blackjak when we were 15, and got a fairly decent following in the six or seven years we did that.
"We were playing three or four times a week. We took every opportunity we got. We haven't got a penny to show for it, obviously."
Blackjak gained a lasting following in the latter part of the 2000s – the hard rock five-piece would have a nostalgic reunion a few years ago at the 'birthday party' of local recording space DC Studios.
That was a rare moment of taking stock for a pair who've only ever seemed to look forwards.
Soon after Blackjak wound down, Matt and Ryan formed Play the Joker – later renamed A Joker Among Thieves – who have since carried on without them.
As the months passed, Matt admits to getting 'itchy hands' and the two picked up the guitars again.
"We got together again and did a bit of writing, and thought we might have something," said Matt, from Staincross.
"So, we started to advertise online for a drummer and a singer.
"The first person to come in was Terry (Coles, the band's drummer), he'd been playing in bands for five or six years and wanted another go at it.
"I'd said before we set off that I wanted a female singer. I just think people listen to a woman."
That's definitely the case with 28-year-old Laura Briggs, whose relatively unassuming presence on the stage is cast into insignificance by a powerful voice that evokes the archetypal classic rock singer.
"We really dropped on with Laura," said Matt.
"She can play a bit of guitar, and she's not afraid to push herself and really give it some. People definitely notice her."
Six months later, the band had enough material to fill an album, and Warning Tongue was released at the start of last year.
But just as the four began to take the nine-song collection of guitar-led hard rock songs around South Yorkshire, it became clear to Matt that his friend had started to look ahead to his time after the band.
It's something that happens to many once-young musicians as they hit their late 20s.
Unless they have the kind of flash-in-the-pan alchemy of opportunity, hard graft and talent to gain enough fame early enough in their lives, what once seemed the most necessary thing in the world becomes less alluring.
Especially when mortgages and kids become involved, it's easy to think back to lousy gigs in empty bars and question whether that's how you want to head into your 30s.
The two didn't fall out, but Ryan's time in the band ended.
Matt said: "I sat down with Ryan and he explained that he had a baby on the way, and was working all the hours God sends, and didn't think he would have much time for the band.
"Everyone has lives and careers, and it's natural to drift apart eventually.
"He didn't want to hold us back. I think it took a lot of weight off when we made the decision."
With the sudden hole left by Matt's childhood friend, the band went straight to searching for a replacement – and found a lifeline in the shape of new guitarist Matthew Hill.
Matt admits he can't remember where the name 'Good Nothings' came from, but it's apt, representing the sheer work the band has put in to make something out of nothing – something which attracted 23-year-old Matthew.
"I was doing something else at the time, and that project fell apart a bit. It's a good job it did, looking back," he said.
"I was impressed they had everything together already.
"Most bands meander a bit, and don't get a lot done, but these guys already had the album out.
"I wanted to make an effort."
He made an immediate impression.
"The first thing we asked at that practise was which song he wanted to learn first, and he said he'd already learnt seven out of the nine songs on the album," said Matt.
"We all kind of went, 'what do you mean?'
"We were all a bit taken aback. Within two or three hours, it was like he'd been here forever.
"We thought we'd have to put writing on a bit of a standstill, but we started throwing around song ideas quite quickly."
SHEFFIELD man Matthew was the driving force behind 'Tit for Tat' – the band's latest release.
Opening with a wah pedal-flecked guitar solo – one of three in the song, he's proud to point out – it's clear the song serves as an introduction to the band's new addition, who also designed the cover artwork and secured its recording through a studio he worked at.
Good Nothings see themselves as a 'live band', but the single has a level of care and attention that suggests a little more lies under the surface.
It keeps the same Guns N' Roses-flavoured riffs of their debut, but has a certain sweet pop sheen accentuated by Laura's double-tracked vocals.
Matthew, who first picked up a guitar as a seven-year-old, said: "We're writing the sort of songs we want to listen to. The single has gone down really well, everyone I've showed it to has really liked it.
"It's nice that this is our own, to do what we want with.
"I'd love for it to be wildly successful, but at the end of the day we're just having fun with it.
"I know a few musicians who are in cover bands playing weddings and that sort of thing, doing it week-in-week-out, and they get a bit fed up with it."
With their plans to tour the single, released last month, again derailed – this time by the Covid-19 outbreak's disastrous effect on the music industry – the band are quietly awaiting their return to the stage.
They might never make a penny, as Matt puts it, but they'll have a good time regardless.
"We've all become really good friends really quickly," said Matt.
"Even if it's no more than a hobby, it's a hobby I'll never find boring.
"I love playing live. Even if you're playing to five people in a room, as long as you catch someone's attention and they clap after a song or stamp their foot, there's a sense of achievement."
And in Barnsley they might well have a captive audience, notes Matthew.
"The others all seem to be veterans of the Barnsley scene and know it quite well," he said.
"I'd never really been to Barnsley before the band.
"One thing I wouldn't have expected is there's a lot more of an audience for rock music, and especially the more classic rock-influenced bands like us.
"Maybe Barnsley is the place to be. It's definitely treated us all right, so far."