THE family of a seriously ill youngster have been heartened by support from the local community during the coronavirus crisis - which has seen them raise £5,000 despite living in lockdown.
Louie George Wood was born prematurely at 28 weeks and has quadriplegic spastic cerebral palsy, periventricular leukomalacia (a type of brain injury in which cysts form on the brain) and global developmental delay.
The four-year-old has since defied doctors - last year saying 'mum' after Jodie was told he would never speak - as his parents, Jodie Morgan and Tom Wood, inch closer to raising the £120,000 needed for vital surgery to allow him to walk and home adaptations.
Lockdown has been a testing time for many families - but when you're fundraising for your seriously ill son to be able to live a more comfortable life, being unable to leave the house is like 'everything being put on hold'.
"It's completely stopped, for obvious reasons," said Jodie, 33, of Greenside, Mapplewell.
"All the events we've had planned for this year have been cancelled.
"But still, people are pulling together for us and keeping it ticking over.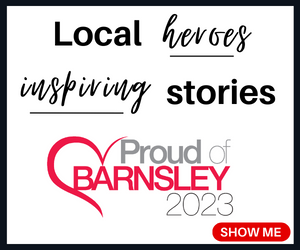 "We've had quite a few people doing race nights and quizzes online.
"Everyone's still thinking of us even in these times, all these months down the line.
"Louie is actually benefiting from the whole situation, because he's got us all around him."
The family have so far raised more than £69,000.
A family friend, Mick Holmes, raised around £700 completing a sponsored 13-mile walk through the village on Sunday, and last month nine-year-old George Ibbotson raised more than £1,000 running a marathon in a week.
Two neighbouring pubs - The Wentworth Arms and The Talbot Inn - have also got on board with fundraising for the youngster.
A video shared of Louie walking for the first time using special equipment unexpectedly went viral this month, leading to enquiries from around the world and the family's Facebook page - 'Louie's Pace' - getting a spike of attention.
Jodie said: "It was overwhelming.
"I got lots of messages and emails.
"It's brilliant for that awareness, not just of Louie's situation but for cerebral palsy as a whole.
"It's another little step.
"You never know who's watching the video, or who's looking at the page.
"There are donations popping up from names we don't recognise.
"It only takes one person to pick up on it and it could make a massive difference."
Jodie, who started emergency treatment for kidney disease late last year, was recently told by doctors she needs a dual kidney and pancreas transplant - adding to the family's list of challenges to overcome.
She said: "I felt very numb, it came as a bit of a shock - and it's enough of a shock for myself, but because we're trying to look after Louie as well it's a lot to deal with.
"I've got to have three tests on my heart, to see if my body can withstand such a big surgery.
"And then it's three months recovery after that.
"I'm panicking because Louie is on the waiting list for his surgery which means travelling to America - what if they happen at the same time?
"We're trying to take it day-by-day.
"I always think living with the unknown is the worst thing, but I try not to dwell on it."
To donate, visit justgiving.com/campaigns/charity/just4children/louiespaceawarriorstale.