A BARNSLEY MP has urged the government to fulfil the promises made after recent flooding incidents blighted Barnsley communities - before another occurrence happens.
Dan Jarvis, who represents Barnsley Central which includes badly-hit Darton, said the 'clock is ticking' on ministers to act on promises made to flood-hit residents whose homes have been battered by the River Dearne and Dove bursting their banks across the borough.
Since widespread flooding in 2007 - which affected more than 350 properties - Barnsley Council has invested more than £2m above its normal maintenance budget on extra flood defence work.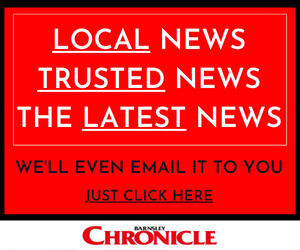 This, bosses said, was a 'major contributing factor' in limiting the number of flooded properties to approximately 150 in November last year despite similar river levels recorded, particularly at the depth gauges on the Dearne in Darton and on the Dove at Wombwell in February.
He said: "Across South Yorkshire and here in Barnsley - in Lundwood, Darton, Low Valley - our communities were under water.
"In response, Barnsley folk did what they do best - rallied around and supported those in need. Sadly, there are some residents who are still flooded out of their homes, who lost valuable possessions in the floods and live in a state of constant anxiety about what next winter will bring.
"I've been fighting for those communities that were battered by floods last November. I've pushed for an emergency flooding summit to bring together local authorities, central government, the Environment Agency, Yorkshire Water and flood management experts in order to formulate a plan for flood defences in South Yorkshire.
"I've pushed the Environment Agency to consider proactive measures to reduce flooding risk, including the dredging of rivers and canals.
"I'm campaigning for our region to get its fair share of the funding that has been promised, setting out the case for an investment programme worth over £270m that would protect 10,300 homes and 2,800 businesses."
Although Barnsley Council's budget proposals allocated £1.5m for the repairing and strengthening of gullies which were unable to cope with the two most recent deluges, the MP urged the government to allocate more cash to prevent a repeat.
"We've heard warm words from the government - in the spring budget, the Chancellor pledged over £5bn to improve the country's flood defences but so far we've not seen the detail nor the level of commitment to what is a vitally important issue for our local communities," Dan added.
"Time and again I've asked the government, in Parliament, to establish the flooding summit promised to South Yorkshire by the Prime Minister.
"Although energies are, rightly, consumed by responding to the coronavirus crisis, the Prime Minister and his government must stick to their word and deliver the promised summit.
"How we rise to the challenge of flooding is about far more than providing sandbags when the riverbanks burst.
"We must put flood prevention as well as flood defences at the heart of our environmental and economic policies and our response must be bold and creative.
"That means ensuring that flooding mitigation betters informs the planning process when it comes to where houses and businesses are built.
"We must realise this chance to do things differently, starting with our flood defence and prevention."