STAFF at Barnsley Interchange are appealing for the whereabouts of a mystery man who suffered a heart attack last Monday - after their quick thinking helped to save his life.
Shortly after 1pm a man, believed to be in his 60s, suffered a heart attack in the Subway branch at the interchange, and, without the response of two staff members, he could have died.
Dennis Baker, 59, of Darton, and Yvonne Wilson, 42 of Castle Street in Barnsley, were quick to act after the man collapsed to the ground in the station.
Dennis, who has been working as a customer service ambassador at the transport hub for nearly 14 years, told the Chronicle: "It was about 1pm when we got the message from Subway's staff that someone had collapsed and had a heart attack.
"Yvonne and I quickly rushed to the scene and I checked for a pulse but there wasn't one, so I started doing compressions and, when that didn't work, I administered mouth-to-mouth on two occasions.
"When Yvonne came back with the defibrillator, I loosened his clothes and she placed the pads on his chest, and when it said to 'shock' we knew that he wasn't breathing."
Yvonne shocked him three times before he started to begin breathing again, and the pair were taking care of the man - who they believe is called Dave - for around ten minutes before paramedics arrived.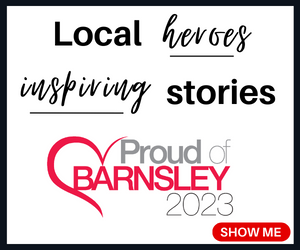 Yvonne said: "It really wasn't nice to see happen but we started to do what we know straight away - it was instant. We worked really well as a team and I know I didn't sleep very well that night because I was worrying about him so much.
"It was a really nice feeling once we knew we had done something good."
However, the pair don't know the whereabouts of the man they helped save, and are appealing to the public to help locate him.
"It really would be nice to see how he's doing, we're all really hoping he's healthy and well," Yvonne added.
Dennis was very adamant that, although his actions were extremely helpful and even potentially life-saving, it was 'just another day at the job'.
"We're all trained in first aid and to be fair we do quite a lot of things to help people who are having seizures and things like that, but I do have to admit this is the first time we've used the defibrillator," he said.
"It's just another day at work really, but it is nice to be recognised for the good things we do - we're out on the frontline and so it's nice to get some good publicity for once."
The members of staff at Subway that were on duty as the incident occurred also acted quickly in alerting both Dennis and Yvonne to the matter.
Megan Miles, 18, of Athersley North, said: "You just have to do what you've got to do, so it didn't really phase me too much."
Kirstie Alger, 26, of Racecommon Road, added: "It was awful to see but we contacted the right people who knew first aid and so we just stood back and watched them do what they do."
'Dave' was taken by paramedics to the hospital but nothing is known after that. If you know who the man is, and of his current condition, contact the Chronicle on 734208.