A BARNSLEY mum is aiming to get grieving families talking about baby loss and hopes that her own tragic experiences can be used to help ease the hurt ahead of Baby Loss Awareness Week later this month.
Lisa Ryan Hughes, of Pogmoor, set up the charity Treasured Blessings last October after losing her and her husband Mark's baby, Samuel, at 20 weeks.
The charity create special boxes and keepsakes in hope of offering grieving parents memories of their baby - and they have already helped a great number of people across the borough.
Lisa told the Chronicle: "After losing baby Samuel in October 2019 at 20 weeks, my husband, a close friend and I set up Treasured Blessings.
"We make and donate special Treasured Blessings boxes and keepsakes to Barnsley Hospital bereavement services and to others who get in touch.
"Our items help parents create special moments and memories with, or in honour of, their babies.
"They help them find the words and prayers lost in their broken hearts and it gives them something special to keep."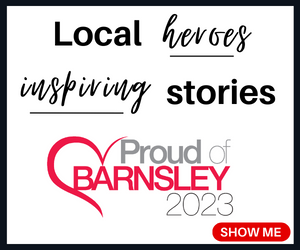 Lisa and her husband decided they were brave enough to try for another baby again after Samuel's post-mortem showed that the causes of his illness were unlikely to happen again.
Heartbreakingly baby Eli was born sleeping at 25 weeks in June - despite the shattering loss the pair decided to continue with their charitable efforts to help other parents across the borough.
"We were delighted and scared to find out just before lockdown that I was pregnant and that initial tests showed that the baby was healthy," she added.
"Further tests, which I attended alone due to Covid-19 restrictions, showed that the baby was unwell.
"We could have easily fell apart but tried to stay strong for the health of our unborn baby and our daughter, Faith, who was about to turn two.
"After weeks of tests, diagnosis and shattered hope, bay Eli was born sleeping at 25 weeks in June - in a world where everything was going wrong around us due to coronavirus, we had to say goodbye to our second little baby boy.
"I don't know how we got through the birth and those early days of grief - the maternity and bereavement services at Barnsley Hospital gave us exceptional care during these unprecedented times.
"It was difficult to continue our charity work as our grief cut so deep that it was debilitating, but we knew we had to continue to help others who find themselves in baby loss - that is why it is so important during this time of isolation, that we hold this service in which people can meet safely face-to-face."
Lisa and her family teamed up with Father Stephen Race to organise a 'gentle service' for all who attend to honour and pray for babies who have sadly died - the service will take place on Sunday, October 11, at St Paul's Church, Greenfoot Lane at 9.15am.
Baby Loss Awareness Week runs from October 9 to October 15 and the shocking statistics around baby loss in the UK paint a bleak picture.
According to Lisa, one in five pregnancies end in miscarriage, eight babies are born still every day, more than 2,000 babies a year die soon after birth, and more than 100 women die every year relating to pregnancy.
"Baby Loss Awareness Week can trigger such a mix of emotions, including desperately wishing your baby was here so that you weren't linked to this awareness, and also feeling the need to be around others who have sadly experienced a similar loss," she said.
"It's hard for those who have never lost a baby to understand the gut wrenching pain and grief caused by being told that your baby has an illness that will mean they won't survive - no family who has suffered the loss of a baby would ever want another family to understand.
"I hope the service will help those families, mums, dads, siblings and grandparents who have lost a baby to come together in remembrance."
For more information about the service, get in touch with Lisa or Father Stephen on 07549 876505, or email listening@treasuredblessings.org.uk.