A VETERAN who has tirelessly fundraised for the intensive care unit at Barnsley Hospital by bugling every night for more than nine months will hang up his instrument with his final concert tonight.
Paul Goose has been live-streaming himself playing The Last Post on the bugle every night since the first lockdown was enforced in March.
A former member of the First Battalion in the Light Infantry, Paul undertook the challenge to bugle The Last Post every night until deaths from coronavirus ended.
However, as the pandemic continued, so did Paul's tribute to NHS staff which has been running for more than 200 days.
"It all started as my way to say thank you for the hard work of the NHS staff," said Paul, 52, of Birkwood Avenue, Cudworth.
"I live-streamed them and each video got a bigger and bigger response so I kept going. I also wanted to give a little bit of comfort to people and encourage the people watching at home to stay safe."
Paul created a fundraising page to help raise money for the ICU at the hospital, which saw him raise £3,000 in just four days.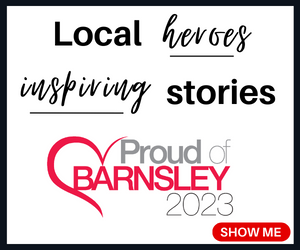 Since then his fundraiser has gone from strength-to-strength and he has now raised almost £10,000.
"I never expected to raise as much as I have," he added. "I am completely blown away by the kindness and generosity of the people in Barnsley who have donated money to help the ICU.
"I wanted to raise money for the unit because they are the ones on the very frontline and are helping people to battle the virus. All the members of staff have worked so hard, especially at the beginning of the pandemic when no-one really knew how to treat people with Covid and I wanted to give something back in any way I knew how."
Paul's efforts haven't gone unnoticed and he has been nominated for an array of awards this year including Proud of Barnsley, Spirit of Barnsley and he was also a finalist in the prestigious Pride of Britain awards.
He also applied for a Guinness World Record but was unfortunately snubbed when the company rejected his proposal for the world record of the longest consecutive days playing The Last Post on a bugle.
"It's unfortunate about the world record," added Paul. "For me that would have been the cherry on top of an amazing year but it wasn't meant to be.
"I am thankful that I made it to the final four in the Pride of Britain awards because I was up against some amazing people," added Paul. "I never started this to gain praise for myself but I really felt that earning a Guinness World Record would have been great but sadly it was never meant to be.
"I will admit, I was a bit disappointed, but I think about my original aim which was to raise awareness about the people who have died and to raise some money doing it, and I've definitely achieved my goal."
Despite his original plan to keep bugling until the last coronavirus death, Paul will end his nightly renditions on New Year's Eve.
He plans to hold a socially-distanced event to mark the occasion, which will be streamed to his now large fanbase.
"I thought that New Year's Eve would be the perfect place to wrap it up," said Paul. "I initially wanted to keep going until the last death, but with the way things are standing at the moment I don't think that would happen any time soon.
"It will be strange to finish my nightly bugling. It's become a routine and my neighbours come out every night to listen to me play."
Along with four other buglers he will play The Last Post one final time, and will also perform No More Parades on his own.
"The drinks will be flowing, I'll be streaming it live on Facebook as usual.
"I wouldn't say this year has been easy for any of us, but I am happy that people have taken comfort in my playing and have tuned in to listen every night.
"My local Cudworth community have been amazing with their support and I hope that the money raised will help someone to overcome this virus."
To watch Paul's final performance, visit his Facebook page at 8pm.