The Chronicle's deputy editor, Josh Timlin, spoke to Dan Jarvis - Mayor of the Sheffield City Region and MP for Barnsley Central - about the borough's prospects in 2021 having entered its third spell of lockdown and, crucially, what needs to be in place for the town to thrive when restrictions end&
THIS time last year - which seems an age ago after a torrid 2020 - Barnsley Council and the borough's MPs were gearing up for a prosperous 12 months.
The future was bright. Significant work was being done to boost the borough's out-of-town shopping locations, the town centre's Glass Works scheme continued to attract big-name stores despite being incomplete and, for the first time in years, the council's financial diligence put them in a position to invest millions in communities through the annual budget.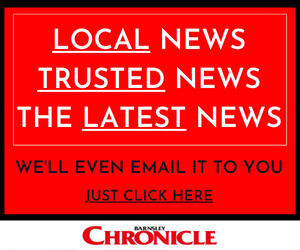 Ask shoppers on Cheapside about 'Covid-19' then and you can bet you'd be met with a puzzled face, but a previously-unheard-of virus became global news in the blink of an eye and the rest, as they say, is history.
However, it remains our future, too, and could be for some time yet. No matter what you think of the government's handling of the crisis - which is rapidly approaching its first anniversary - vaccines are being rolled out across the country but the knock-on repercussions of such a costly pandemic will be felt for generations to come.
While Dan agrees the coronavirus clean-up will take a long time and significant financial commitments from whichever political party has power in the coming years will be essential, he is keen to point out that there's much for Barnsley folk to feel positive about this year.
Vaccines, and the rate in which they're being delivered, most notably.
"Vaccines are, put simply, our only way out of periods of lockdown," he said. "Restrictions, although a concern to many, are necessary to save lives and to prevent our NHS from becoming overwhelmed.
"Rates of infection and hospitalisation are rising extremely quickly in every region of the UK. The new variant of the virus is 50 per cent to 70 per cent more infectious and transmissible and we must do all we can to limit its spread.
"It's devastating for families and businesses to start the new year with tighter restrictions, but this is the only way we will save lives.
"However, there's much to feel positive about. While the latest lockdown simply had to be brought in, we're in a far better position than we were in March.
"We now have several vaccines - ones which will save lives - and while the government's perhaps said it prematurely before, there truly is a light at the end of the tunnel."
A major Glass Works milestone was reached last month, with the glazing of two new glass-roofed boulevards being completed on the striking £200m project.
Due to open in September, it's one of the only leisure and shopping destinations under construction in the country and will feature a 13-screen Cineworld with large-scale 4DX screen, 25 new shops, seven new family restaurants and a Superbowl UK.
Even the most ardent of council detractors must find it a remarkable feat, especially so when you factor in the fact the local authority's suffered some of the worst funding cuts in the country, losing nearly 40 per cent of its day-to-day budget.
"This shopping complex will be a huge draw for not only residents already here but also those from neighbouring towns and cities - everyone associated will play their own part in our economic recovery," Dan added.
"The Glass Works is key to that. For too long Barnsley's town centre has lagged behind its neighbours' offerings, but that won't be the case.
"What's essential now is that the government provide a clear exit plan, one that's not uncertain for people to follow, as that will also provide the things we all want - hope, and a return to normal lives.
"It has to be one which has a significant financial package in place to make sure our businesses are still around when the end is reached as Barnsley will be at its very best.
"While the government's been accused of giving mixed messages and uncertainty has been apparent, what's absolutely clear is that Barnsley's residents have been truly resilient throughout.
"When the nightmare is over, we'll still have a town to be proud of."