THE mother of a disabled baby - who received the devastating news that her daughter's brain tumours are now inoperable - is determined to make her remaining days special.
Jade Rowland, of Longfields in Wombwell, has started an online fundraiser to help give her daughter, Ellie-May, the best quality of life possible.
The one-year-old, who was given days to live when she was first born, has tuberous sclerosis, which causes her to get tumours all over her body, including her brain.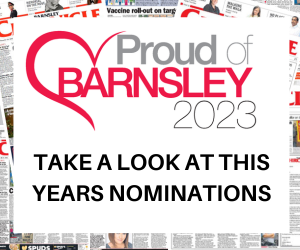 Ellie-May also suffers with severe epilepsy and west syndrome which gives her small spasms.
The tumours have since spread to both side her brain which doctors have said are inoperable.
Now Jade is determined to make her time with Ellie-May extra special and believes there's still fight in her daughter yet.
"I started this fundraiser last year in a bid to get Ellie-May a sensory room which would have been life-changing for her.
"We couldn't believe the support we received from people who helped raise more than £500 for us. It was unbelievable and I'm forever thankful.
"After the heartbreaking news, I was determined to focus on what we could do for her which is to make her as happy and comfortable as possible.
"We have our shell for her sensory house which I am eternally grateful for everyone's hard work to achieve this, we now need to get it finished which includes electrical work and kitting it out with equipment.
"My aim is to make memories for Ellie-May now and hopefully with any funds left give her once-in-a-lifetime opportunities."
Jade is determined to focus on the time she has left with her daughter and not dwell on the negatives.
"I don't want this to be negative because she's an absolute fighter and she's beat the odds many times before.
"She makes me incredibly proud to be her mum every single day. The uncertainty of not knowing how long we have is horrible.
"But I know she'll put a smile of everyone's faces for as long as she can. We've never heard her speak but she definitely makes her voice heard with people.
"She loves dancing, water and travelling. We managed to get away last year and she absolutely loved it.
"If we exceed the costs of the sensory room, these are the types of things I'd love to do with her.
"I've made so many new friends through my appeal who have helped me and Ellie-May throughout this.
"Ellie-May has changed my life, being a mum has opened my eyes to the little things in life that are important. Everything I do is for her."
Jade aims to raise £3,000 to cover the costs of the sensory room.
"I'm incredibly thankful for everyone who has got behind us.
"Thank you very much to everyone who has already donated, and please keep us in your thoughts and prayers.
"We'd love to hit our goal."
To donate to Jade's fundraiser, visit the Barnsley Chronicle website.