Barnsley FC's charity arm, Reds In The Community, are calling on fans or people in the town to become trustees and help the recovery from the impact of Covid-19.
RITC deliver more than £1million worth of charitable activities in the borough every year and are looking for people to join their board.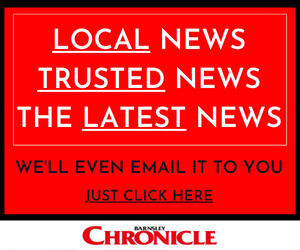 Wayne Bullimore, the former Barnsley player who runs the charity, said: "Like most organisations we've gone through a pretty tough time but we are in good shape and we're in a good place to support local recovery.
"We want to help pick up the pieces of the coronavirus crisis and help the community recover.
"A lot of trustees are coming to the end of their trusteeships and it feels as though we are at a crossroads. We have made a huge amount of progress and delivered a lot of good stuff but we want to raise the bar with a new, strong and diverse board.
"We haven't got the message out enough. I tell people on meetings that we deliver more than £1million a year into the community in terms of charitable activities and people are really surprised. We need to increase engagement and get more local organisations involved."
Simon Biltcliffe is a lifelong Barnsley fan who is now chairman of the trust.
He said: "We can have unique impact. There is nothing that means more to Barnsley than the football club. If there was a maypole that everyone danced around, it would be the club. When the team is doing well, the town and the people feel good and, when we're not doing so well, it hurts us all.
"We can have more impact than any other charity because we have that reach. If you are interested in making an impact on the people of Barnsley, there is no better role.
"It's all about inclusion and making people's lives happier. There are very few things you can put your voluntary time into that would have a higher purpose, I think, than becoming a trustee.
"I think most people are simply unaware of what the Reds in the Community does. We want to build a cadre of people who can get this message out better
"As trustees, we must love the people of Barnsley and believe in the charity's objectives.
"Whether a trustee supports the football club is irrelevant, but it is critical they support the place.
"We are trying to raise the quality of life of people who need it. It is a very challenging time and we want Reds in the Community to be a beacon.
"We want people with a positive demeanour who can add something to the board through their personal and professional experience.
"The need is at its greatest since the Miners' Strike. I don't think we have even scratched the surface of the mental health impact of Covid. The charity has never been needed more.
"Wayne has seen it through extremely well and now we want to take a step forward with new trustees."
What services do Reds in the Community provide?
Bullimore said: "It is very broad.
"We have 130 young people who are on full-time academic time-table exactly the same as they can access at college at Oakwell. Mainstream education is not for everybody and we offer something different with smaller groups which gets really good results.
"In lockdown we have offered facilities for disabled young people whose parents and carers need a break – which has been absolutely fantastic.
"We run a lot of mental health courses, we work in schools and we run the National Citizen Service for young people which has massive reach.
"There is walking football for older people, refugee football teams and various other projects."
The charity works with the club and uses Reds players to attend and promote events, while Conor Chaplin is an 'inclusion ambassador'.
Bullimore said: "The players are a voice for us. It's not a case of them staying for an hour then they are desperate to get off.
"You see all the stuff Marcus Rashford has done. Players see the impact they can make. I have been doing this for 20-odd years and the players are getting better and better."
Biltcliffe added: "Young people are much more enlightened than a lot of people think and footballers are people who others look up to.
"I think we can make Reds In The Community part of the reason footballers want to come to the club rather than other clubs because it really does matter to young people.
"Rather than playing PlayStation or golf again, if you can do something that impacts on someone's life in a positive way, there aren't too many days that get better than that."
Bullimore played 40 games for Barnsley from 1991 to 1993.
"I have a lot to thank Barnsley FC for. I cut my teeth professionally here and then, when I came out of football at 30 without a lot, Barnsley was there again for me. I love the place. It is an environment I am used to and it's a benefit to know how a football club works."
To apply to be a trustee, visit: www.barnsleyfccommunity.co.uk or email wayne.bullimore@barnsleyfc.co.uk.
The deadline is March 19.