AMBITIOUS plans to reopen a defunct passenger railway line which will be 'transformative' for thousands of commuters have taken a step closer - after leaders behind the scheme submitted a funding bid in order to secure cash.
Royston - which had its own four-platform station from 1841 until its closure in 1968 - still has an operational line but it is only used for freight trains to deliver sand to the Ardagh Glass factory in nearby Monk Bretton.
A funding bid has been sent to the Department for Transport, which has made cash available to communities through its Restore Your Railway Fund.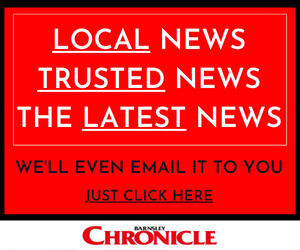 The proposal has attracted widespread and cross-party support, including the Sheffield City Region, Barnsley and Wakefield Council and over-the-border MPs Imran Ahmad Khan and Jon Trickett.
Barnsley Central MP Dan Jarvis said: "Transport is the lifeblood of the economy and it's why I'm working tirelessly to transform our public transport system.
"This bid will bring potentially transformative employment, training and regeneration opportunities for the villages of Royston, Carlton and Lundwood and significantly improve rail connectivity across the borough and further afield.
"It is the missing piece of the jigsaw in enabling residents to access affordable and reliable rail services for work, study and leisure.
"The government was elected on a commitment to level up the north and it is vitally important that we see increased infrastructure spending in every town, city, region and nation of the UK.
"For far too long, communities in South Yorkshire have not received our fair share of investment.
"This is a well-supported, ambitious and achievable proposal that would deliver significant transport, economic and social benefits for local communities in South and West Yorkshire.
"If the government is serious about levelling up, I can think of no better place to start than this."
Work would have to be done to reinstate a line for passenger use but given the infrastructure is there, it's hoped the bid will be viewed favourably.
If successful, its reopening would enable commuters to travel to Wakefield and Leeds, something which is being supported by the Royston ward's Couns Caroline Makinson and Tim Cheetham.
She said: "This line being reopened would make a huge difference to the villages of Royston and Carlton.
"The lack of a railway link has been a long-running issue locally - if successful, this bid would bring new opportunities for investment and regeneration for local residents.
"I'm proud to be working closely with Dan and the Royston Ward Alliance to reopen this railway line and deliver real benefits."
Tim added: "Restoring the Royston rail line would give us a great opportunity to help get cars off the road and reduce our carbon emissions, protecting our borough for future generations.
"At the same time, it will create further job opportunities for local people within the regional economy, supporting our long-term plans to stimulate the growth of more and better jobs and homes.
"I'll continue to work closely with our partners on this exciting project."