Doug O'Kane looks back at Saturday's 2-1 loss to Sheffield Wednesday.
HASSELL NEWS AND TABLE PROVIDE PERSPECTIVE IN DIFFERENT WAYS
Perspective, in football and especially after a local derby, is often very hard to find.
But, either side of this disappointing performance and result, there were two images that should remind Barnsley supporters of what is most important.
The Reds players warmed up in jackets emblazoned with the message 'Keep fighting Bayley' for under 18s player Bayley Hassell who is battling cancer - the sort of news that makes the result of a football game seem insignificant.
Even within football, there is perspective to be found as, after the match, the league table showed that Barnsley remained fifth with eight games to play, five points clear of the teams outside the play-offs.
That is well beyond any realistic expectations for this season and it is because of an outstanding run throughout February and March which has seen the Reds play 11 league games in 34 days and collect 28 points.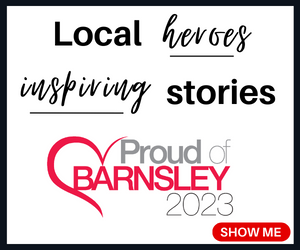 The Owls' win re-ignited their battle for survival while Barnsley's fight for promotion is still very much on and, despite this defeat, they should be delighted with their efforts going into the international break.
FATIGUE, ERRORS AND RHODES KEY FACTORS
In the minds of many Barnsley fans used to years of disappointments in this fixture, this was always going to happen.
The fifth-placed Reds, unbeaten in 12 with nine wins from ten and a chance to make this their best run since 1984, hosted a second-bottom Wednesday side who had taken one point from their previous eight matches.
The Owls were the second lowest scorers in the division, and had lost 12 of their last 15 away matches, while the Reds had the chance to move closer to the Premier League and send their rivals on the way to League One.
Barnsley had been boosted by the overturning of Alex Mowatt's red card in Wycombe while Wednesday had four first choice centre-backs injured then lost goalkeeper Keiren Westwood in the warm-up. It all seemed to be going Barnsley's way, and that is exactly when football tends to kick you in the guts.
This seemed 'a game too far' for the Reds and Valerien Ismael admitted his side were tired which led to their poor performance.
Although they were beaten by a £10million striker, former Oakwell academy player Jordan Rhodes who netted his 113th and 114th Championship goals, the Reds gifted him the brace rather than being outclassed.
The game may have gone a different way had Michael Sollbauer not wasted a superb third-minute chance, against a side who have zero points from behind this season, or Mads Andersen and - especially - Callum Styles not made errors for the goals. Andersen was undone by a deflected cross and good Rhodes movement, but Styles' error was basic and he is in need of a break after a poor March.
REFEREE ROBINSON AGAIN PLAYS BIG ROLE
Referee Tim Robinson angered Barnsley for a third time this season.
The Sussex official, who sent off two Reds players in Reading in September then awarded a handball penalty to Watford in January, disallowed a goal by Cauley Woodrow at 0-0 then turned down two penalty appeals for fouls on Daryl Dike by Tom Lees then Joey Pelupessy.
Robinson ruled that Dike fouled goalkeeper Joe Wildsmith but replays show barely any contact, certainly less than when Lees appeared to wrestle Dike down seconds later.
Ismael fumed that all three decisions were wrong but admitted that Wednesday deserved to win.
REDS LONG BALLS DIDN'T WORK
Barnsley's long ball tactics were, for the most part, easily dealt with.
They needed to get the ball down and play, stretching a porous and patched-up Owls defence, but they didn't do so until it was too late.
Wednesday's long balls behind the home defence negated Barnsley's press and caused Brad Collins to rush out his box and miss the ball - with Rhodes missing chances.
At the other end, Mowatt put 14 crosses into the box but, although many of them were adequate and the first two could have led to goals if Sollbauer and the referee had responded differently, most of them lacked the top quality to unpick a resolute Wednesday defence.
In general play, Mowatt and first Romal Palmer then his half-time replacement Aapo Halme struggled to gain control against Wednesday's three-man midfield, in a game which may have suited the injured Herbie Kane.
Mowatt also curled over a free-kick in the 87th minute which could have made him even more of a Reds hero.
Dike had missed a better chance midway through the second half when Carlton Morris brought down a Brittain cross but the America fired straight at the goalkeeper with a weak ten-yard effort.
Overall Dike was Barnsley's best player, winning nine headers and bulldozing his way through the Owls defence with clever turns but also brute force - eventually being upended by Callum Paterson in a move that looked more like an ice hockey hip check or NFL tackle from his homeland.
MORRIS HAS SIX GOALS FROM THREE STARTS
Half-time substitute Carlton Morris impressed, not only scoring but showing great desire, movement and strength to nearly drag his side back into the match.
Morris now has six league goals for Barnsley, as many as for any of his eight previous clubs despite only signing in January. He has started just three matches which means he has netted every 104 minutes. He is the second top-scorer in the league, joint with Mowatt.
Morris perhaps should have started, as possibly should Toby Sibbick who - with more pace than Sollbauer who he came on for at half-time - might have been able to block the cross for the opening goal.
Getting Morris' goal threat in the game from the start must be something Ismael is surely considering during this break.