Michael Sollbauer believes he can join his Barnsley fellow centre-back Michal Helik in gaining an international call-up.
The 30-year-old Austrian centre-back is yet to be called up by his country at any level but it remains one of his career targets.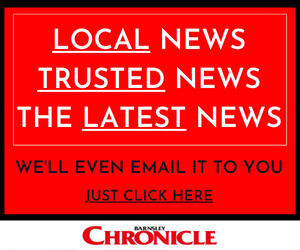 Helik is in the Poland squad during the international break while young Danish defender Mads Andersen has been tipped by head coach Valerien Ismael to have a future at international level.
Sollbauer told the Chronicle: "I am 30 years old but this is still my dream to get a call.
"I try my best to help Barnsley and the rest will come.
"They have a very good squad in Austria with centre-backs in the German Bundesliga. I respect that but it is still my dream to play for my country."
Sollbauer was a regular in the Reds' first team during 2020, after signing in the January transfer window.
But, since the return of Toby Sibbick from loan this January, the two of them have been sharing the right centre-back position with Ismael often rotating them for starts then bringing the other off the bench.
Sollbauer told the Chronicle: "I respect this decision and I am happy to be part of it but I am not totally satisfied with this situation because I want to play every game and every minute if possible.
"Toby did a great job since his return and he strengthened our squad. I respect him. I am not 100 per cent satisfied but it is just my attitude as a player.
"With the schedule, we have a lot of players who can come in and help the team.
"With five subs, it is really good for us as the forwards, midfield and defence can swap around and react to the game or the opponent. It is a big strength for us."
Sollbauer 'promised' Barnsley fans at the start of this season that they would not be in another relegation scrap but he admits he did not expect them to be in the top five wth eight games to play.
"It would not be right to say that, when we spoke at the beginning of the season, that I expected a situation like this.
"But I expected we would have a much better season and obviously I was right.
"You can't say before the season that this would happen because many things have to go in the right direction for Barnsley to have a season like this.
"We have put a lot of work in to get into this position and we want to stay in it."
Barnsley have threatened from set pieces in recent matches, particularly through Helik and Andersen who Sollbauer wants to join on the scoresheet with his first goal for the club.
Sollbauer almost scored on Saturday against Sheffield Wednesday but fired over from close range in the third minute, before the Reds lost 2-1.
"I am very happy with the attacking set pieces of our team. We paid a lot of attention to these set pieces a couple of months ago and the hard work is paying off at the moment. Set pieces are a big part of every game. You can win a game with your movement, deliveries and finishing from set piece.
"I have come close. It is good I am in this position. My goal will come. I think I will score when no-one else will score."
Sollbauer admits he is happy to have the international break to rest after a gruelling schedule saw the Reds play 12 games in 37 days.
"It is a tough schedule but we are enjoying it. We want to play this schedule.
"We like to have this rhythm with no break. But now we will have a good break and recover and get away from football then focus again on the last games.
"It gives me a chance and everyone a chance to see family."