FIRE chiefs in Barnsley have urged youngsters to take responsibility for their actions having hit out at a spate of 'needless' arson attacks following their busiest night of the year.
The borough has four stations - Barnsley, Cudworth, Tankersley and Penistone - but only three full-time fire engines available.
Should fire crews from across the borough be called out to a number of deliberate fires at the same time - as they were last Wednesday night when five vehicles were torched and multiple fields were set alight over a hectic three-hour period - resources are scarce for more serious emergencies.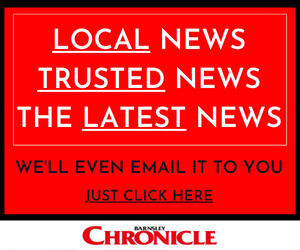 Chris Mee, station manager at Barnsley, told the Chronicle: "For all firefighters it's one of the most infuriating things to happen because we have a limited number of resources in Barnsley especially - we don't have fire engines on every street corner.
"We have two fire engines at the Barnsley station, one in Cudworth and one in Tankersley, so if we're called out to four deliberate fires it means that we're all covered."
Crews at Barnsley station - formerly based at Broadway - temporarily moved to Barugh Green last year while the site undergoes a £4m rebuild and it's hoped the new venue will be open for action by July.
"When we first went into lockdown there was massive uncertainty, much like everywhere else, as it affected the way we operated," Chris added.
"We can't have our emergency response teams working remotely.
"Crews and staff across the service have worked tirelessly to deliver community and business fire safety work throughout the pandemic.
"The positive news is that our level of emergency response to the public never lowered as that's something we handled really well.
"At Barnsley it's unique because we've split our crews up into six people with a minimum of four on duty at any given time - so we could lose four or five people for five or six working days if there was a positive Covid test.
"There's never a time where we don't have enough firefighters on duty, it's just very frustrating when we're being called out to an incident that isn't life-critical because our services are being taken elsewhere."
Steve Jones, station manager in community safety, urged people to think twice before starting a fire.
"Such mindless behaviour ties up our crews and means they may be slower to respond to a more serious incident," he added.
"To anyone setting fires on purpose, how would you feel if your family were in a house fire and our response was delayed due to being stuck at a needless grass fire?
"Our staff, much like other emergency services, dedicate their lives and careers to helping others and saving lives.
"Let's keep our firefighters free for real, life-threatening emergencies.
"Car fires are some of the worst deliberate incidents we attend - they can cause huge damage and put our firefighters at risk in lots of different ways.
"It's really sad to see that, after such a tough year in which so many people have pulled together, we're having nights like this."