A BABY boy with 'no immune system' has become one of the first in the country to have a life-saving revolutionary operation - and his family, who he's yet to meet, are fundraising to thank the doctors who saved his life.
Ellis Melhuish was born with CHARGE syndrome and has for the first 16 weeks of his life known nothing but hospital wards, doctors and nurses.
CHARGE syndrome - which causes issues with sight and vision, balance, breathing and circulation from birth - is already rare, affecting around one in 10,000 babies worldwide.
But severe combined immunodeficiency (SCID), linked to the syndrome and removing the body's ability to produce white blood cells, affects just 15 to 25 babies born every year in the UK.
James and Savannah, Ellis' parents, were made aware of a heart condition during pregnancy but following a small operation he was revealed to have the immune system deficiency.
Ellis has since remained in Birmingham Children's Hospital, with James - a soldier based at Stafford - and Savannah initially living in temporary accommodation built on-site for families and spending upwards of 12 hours daily with their son.
The couple were introduced to a thymus gland transplant - a radical surgery to replace the gland that produces T-cells, white blood cells that fight infection.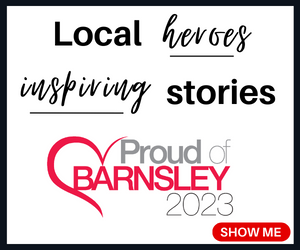 Without the surgery - which saw doctors implant 14 pieces of a donated healthy gland into each of Ellis' legs - they were told he may not make it past two years old.
"He's never been out of hospital and never met his family properly - first because of Covid and then because of his immune system deficiency," said James, 28, from Barugh Green.
"The day he was born, we found out he had this genetic condition - that first day was really hard.
"It's peaks and troughs - we might have some really bad news, then plough through and try to have a laugh and a joke and see the best in it.
"What makes it easier in some respects is how Ellis does.
"He's so strong and he's always smiling - if you covered up his tracheostomy tube, you wouldn't think there was anything wrong.
"The day after the transplant, he woke up and smiled - he'd had his legs cut into, but was happy as Larry.
"He was four weeks old and had to be put on a ventilator.
"He was six weeks old when he had a tracheostomy.
"I'm a soldier and Savannah is a social worker, but we've had to learn how to be carers and do our research - we sometimes have to tell nurses what his condition means."
Ellis had the pioneering procedure at Great Ormond Street Hospital - becoming the 51st person in the country to do so - and this week returned to Birmingham after recovering well.
Great Ormond Street is one of only two hospitals worldwide that take on thymus transplants, with the other being Duke University in Texas.
"It's that rare people come over from Germany and New Zealand to have it done," added James.
Because of the range of challenges he faces, Ellis will be kept in hospital for several months and it could take up to 18 months for his immune system to fully develop.
Ellis' family are now raising money for Birmingham's intensive care unit - which has an appeal running to give each child who has a tracheostomy a stuffed raccoon toy with its own breathing tube, a 'Racky with a Trachy'.
His grandmother, Christine Melhuish, said: "He's had such a tough start with lots of challenges, but he's kicking the hell out of them and getting through it.
"He's an absolute miracle. Doctors have been turning around and saying 'where is this poorly baby?' as he's always smiling and kicking his legs.
"We want to say thank you to Birmingham - they've been so good to Ellis and his mum and dad."