DARFIELD is inventing its own Yorkshire Day traditions.
The Yorkshire pudding throwing competition held at the village's Maurice Dobson Museum on Saturday might appear on its surface to be some ancient celebration, similar to the throwing of bread from Wath's church tower at the start of Wath Festival.
But, no - Ian McMillan admits he and other committee members at the museum made the whole thing up shortly before this year's event.
Yorkshire Day at the Vicar Road site - once a corner shop run by Maurice and his partner Fred Halliday - saw the U3A Old Blowers Brass Ensemble band and the usual food, drink and festivities, heightened by the relief felt after more than a year without such events.
But it also saw some enthusiastic Yorkshire pudding hurling, and guests were invited to try 'Darfield cake' - another new concoction, acrostically consisting of dates, apricots, raspberries (not raisins, although Ian said they might be better in advance of next year's effort), flour, icing, eggs and lemon drizzle.
"There's a tradition in Shetland called 'Up Helly Aa', where people get dressed up in strange outfits and walk up and down the streets," said Ian.
"They pretend as if it's this long-standing tradition, but it turns out they invented it fairly recently - and so I thought, why not invent something?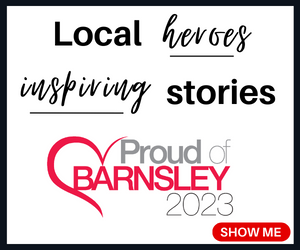 "And then we came up with this story about Maurice and Fred who ran the shop, that they had a tiff and one threw a Yorkshire pudding at the other one, and then it became a tradition.
"I wrote a fake poem about it, and we went from there.
"And on the day, we hurled Yorkshire puddings with great glee.
"It was nice to see the museum busy with lots of people coming from all over the place."
Yorkshire Day itself is a fairly recent invention, initially a protest against local government reforms in 1974 that saw the county's Ridings abolished.
According to the Yorkshire Society, the first civic celebration of the date was held in York in 1985, ten years after it was first established.
Yorkshire people are invited to read a 'Declaration of Integrity' reaffirming the county's historic boundaries.
In Barnsley, celebrations started on a somewhat muted note when Crown and Anchor landlord Robin Mears provided all of his customers with a free Yorkshire pudding - the Chronicle reported that at the time, but neglected to mention whether anyone decided to throw theirs.
In 1995, first citizens from across the region took to Barnsley's streets - alongside fire-breathers, a band of Ghurkas who played 'Ilkla Moor Baht'at' and a grand parade.
However, as the Chronicle reported at the time, many onlookers hadn't even heard of Yorkshire Day.
It's grown in significance and awareness since, as traditions do - perhaps the museum committee's pudding chucking might weave itself in to the tapestry that will be built up over the coming years.