A BRONZE memorial sculpture will be unveiled in Barnsley town centre on Monday to commemorate almost 900 local people who have lost their lives to Covid-19 during the pandemic.
'Reverence' features seven figures cast in bronze, including a young girl, older man, volunteer, nurse, carer, police officer and a teacher.
The figures span all generations and communities and represent people who have been affected by the pandemic.
The unique artwork has been created by acclaimed sculptor Graham Ibbeson in collaboration with Lockbund Foundry, with poet Ian McMillan providing the sculpture's emotive words which read: 'Barnsley's fierce love holds you forever in its heart'.
Guests including HM Lord-Lieutenant Professor Dame Hilary Chapman, Lord Bishop John Sentamu, local MPs and members of Barnsley Council will join bereaved families, key workers and members of the public in Barnsley's new Glass Works square for the unveiling ceremony.
The sculpture is one of the first permanent Covid memorials in the world and is unique because it features ordinary working people who are 'hugely under-represented in public art', according to leaders behind the scheme.
Council leader Sir Steve Houghton said: "This memorial project is an enduring work of art to remember those we've lost and to commemorate the incredible efforts of those that worked, and continue to work, so tirelessly to look after us and keep our communities going.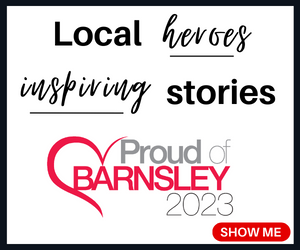 "It is a tribute to the real heroes of the pandemic, the ordinary working people of Barnsley and the country as a whole.
"Working people as a group are vastly under-represented in public art and we are proud to be at the forefront of recognising them in this sculpture."
The expected cost of the sculpture is £210,000, which is within the overall budget provision of £450,000.
Barnsley Hospital chief executive Dr Richard Jenkins added: "It's wonderful to see this tribute to the hard-working people of Barnsley who dedicate themselves to serving their community.
"Everyone working in healthcare has been greatly affected by the pandemic, and it is right to take time to reflect on the variety of people and professions that have brought us this far."
'Reverence' is part of a wider project of remembrance and reflection organised by the council and partners including Barnsley Hospital, Berneslai Homes and the region's emergency services.
An exhibition linked to the memorial project will be on display in the new Gallery @ the Glass Works, allowing for reflection and messages of commemoration and support.
Graham said: "This is a memorial to people who have passed and in recognition of those who keep this country going.
"It's a sculpture of hope and will be the first permanent memorial of its type in the country.
"I was honoured to give my time to be involved with this project."