With less than 100 days until the Olympics start, Doug O'Kane caught up with some of the Barnsley men and women hoping to be on Team GB
ENGLAND STRIKER BETHANY HOPES FOR GB CALL-UP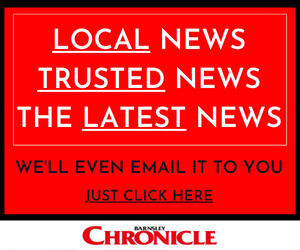 BETHANY England grew up watching the Olympics with her athletics-mad family in Kingstone and now wants to compete in Tokyo as a footballer.
The 26-year-old England and Chelsea striker is hoping to be part of the Great Britain squad that competes at an Olympic Games for the second time – after their debut at London 2012.
Bethany said: "Who wouldn't want to go to an Olympics and represent Team GB? It would be an absolute honour.
"It would genuinely be a dream come true. I grew up competing for Barnsley Athletics Club and we all watched the Olympics as a family. To be a part of that would be something I would hold really close to my heart.
"I did pentathlon, hurdles, triple jump – everything I could get involved with.
"My sisters and my mum and dad competed as well. I went down the football route, which GB didn't compete in at the Olympics when I was a kid, but to get there would be momentous.
"It will be a big challenge to get in the squad. It's not just the England players but all the incredibly talented players from the other home nations.
"I just want to stand out and make sure I am on that plane."
Bethany is on course to win a quadruple of trophies this season with Chelsea who have won the League Cup, are top of the Super League, with three games left, in the Champions League semi-finals and the FA Cup fourth round.
Chelsea are due to face second-placed Manchester City on Wednesday in a match that could decide the league title before taking on Bayern Munich in the Champions League semi-final.
"We have won the Community Shield and the League Cup.
"The FA Cup looks like it's going into next season but the league and Champions League are very much up for grabs and we're definitely looking to take both of those trophies this season.
"We have an FA Cup game against London City Lionesses then the focus will turn to the City match which will be a league title-decider which everyone is looking forward to.
"Then we'll go straight into the Champions League semi-final."
England has 12 goals this season and has recently recovered from a head injury, the latest in a series of setbacks which have reduced her gametime.
"This season has been a whirlwind and not the season I would have hoped for. It's definitely had its challenges
"My minutes have been nowhere near what I wanted. I have more appearances off the bench than starts.
"I can't control the selection or the little injuries I have had.
"I have had my fair share of crap thrown at me but it's educated me and I am hoping that is the end of my bad luck. I am hoping to play a big part in the end of the season and help the team win trophies."
England is delighted that the Women's Super League games will be shown on Sky Sports and the BBC as part of a history-making TV deal which is set to inject £7-8million into the game per season.
"It's phenomneal. This is what female professionals are striving for.
"The more money that comes into the game, the more professional clubs and better standard of league we can have. We need better coaching all the way down to the grassroots and we need full-time referees at the top level.
"The TV deal is a massive, massive moment for the women's game and I am proud to think I played a part in it. The women's game has grown so much in the last years and girls are being inspired by seeing women's football on TV, and hopefully this deal can help."
SUE SET FOR SLOVENIA SHOWDOWN IN JUNE
SUE GILROY admits it is difficult to find a balance between protecting her health and trying to qualify for Tokyo in wheelchair table tennis.
The 48-year-old schoolteacher from Dodworth is hoping to make a sixth Paralympics and win her first medal at that level.
The Great Britain team has been to an overseas training camp this week but Gilroy decided not to go as she is waiting for her second vaccination and is classed as medically vulnerable.
To reach Tokyo, Sue will need to win a qualification tournament in Slovenia in early June against players from across the world.
She said: "We have been really careful up to now and trained in bubbles. I am not looking forward to getting on a plane but there will be lots of test and strict protocols.
"It is always a worry because Europe is bad at the minute.
"But that's what I will have to do if I want to qualify. I have worked so hard for five years to get there.
"It's been difficult because access to training has not been good.
"I have been training with very limited hours at the EIS but it has opened up more from this week so I have been able to train in the evenings which is really good.
"I am feeling a lot more confident about my game and hopefully, in the next eight weeks, I can back to near my best. It will be a big challenge to get back used to matchplay against foreign players after 18 months, but I am looking forward to it."
ED COULD BE 1ST BRIT TO WIN GOLD IN 4 OLYMPICS IN SAME EVENT
BARNSLEY-BORN cyclist Ed Clancy could make history in Tokyo when he searches for a fourth gold medal in the team pursuit.
The 36-year-old, who grew up in Ingbirchworth, won gold in Beijing in 2008, London in 2012 and Rio in 2016.
The only British athletes to have won gold at four or more Olympic games are rowing legends Steve Redgrave, who won five, and Matthew Pinsent as well as sailer Ben Ainslie and Clancy's former team-mate Bradley Wiggins.
Clancy could become the only Brit ever to win gold at four Olympics in the same specific event.
SAGAR HOPING TO WIN GOLD MEDAL IN 3RD GAMES FOR YOUNG SON WILLIAM
IAN SAGAR is hoping it is third time lucky in his quest for a Paralympic gold medal in wheelchair basketball.
The 38-year-old from Hoyland Common, who has been in a wheelchair for two decades since a motorbike crash as a teenager, was part of the Great Britain team that came fourth at London 2012 and won bronze four years later in Rio.
He then took a break from international competition to start a family in Italy, where he has played for the majority of his career, before setting his sights on Tokyo.
Sagar said: "Last time we got bronze in Rio but, in the last World Championships, GB won gold and they are ranked number one in the world.
"We want to stay at number one and win gold.
"I have never played in a Paralympic final and it will be the biggest game of my life if I get there – then there is obviously only one outcome I want which is a gold medal.
"I doubt I will make it to the next Paralympics so my baby son William won't see me live playing basketball.
"So I have to put on a good show so he can see me on tapes, hopefully wining a gold medal in Tokyo."
Sagar is currently playing for a team in Germany, an eight-hour drive from his home near Milan.
His club season is due to finish at the end of next month then he will spend most of June and July in a training camp in Loughborough with Team GB before flying to Tokyo in August.
"The coach is having to select the team from stats and videos, not from watching us live, but I have done my bit and hopefully I am selected.
"I know the coach and he could not see me for a year but know how I play.
"But he has 20 good players to choose from so it will be tough.
"I would hope that my experience will help me but I will have to see.
"Team GB have been very good and have offered to host families in the training camp bubble with the players, but it wouldn't work for us because we have two kids at school and my family is based in Italy.
"I have to make this personal sacrifice to get glory in the Paralympics."