Analysis of Barnsley's 3-1 win over Portsmouth on Tuesday which took them up to fourth in League One.
POIGNANT MOMENTS ON SPECIAL NIGHT
IT WAS a night of special moments at Oakwell on Tuesday as Barnsley continued to unite on and off the pitch and momentum grew even greater in this epic promotion push.
James Norwood opened the scoring at the exact same time that phone lights were being turned on around the ground in a pre-planned 16th-minute message of support for head of ticketing Beth Sefton who has been seriously ill in hospital.
Three minutes later Nicky Cadden, whose son Leo was born last month, curled in a magnificent first Oakwell goal and – after almost forgetting to do so – stuffed the ball up his shirt in the traditional celebration for a new father.
The third goal had no such strong emotional and personal storyline – apart from Devante Cole reaching double figures in the league which few would have predicted last summer.
But it was a good response to Portsmouth - who had been outclassed in a one-sided first half - pulling one back just after the break and helped the Reds kill the game as a contest.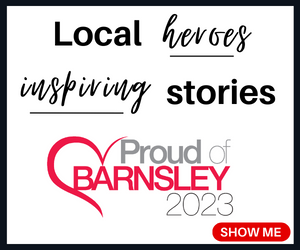 Along with the hard work of club staff to organise the game after the shock closure of the East Stand, it just felt like a night when everything came together in adversity at Oakwell where there is a real spirit and resilience again.
The win took Barnsley up two places to fourth, six points clear in the top six, while they are unbeaten in nine with seven wins, and have taken a whopping 40 points from their last 18 games.
In their last two home games, they have overrun and outplayed two of the better-paid, highly-rated teams in the division - Derby and Portsmouth - in excellent first halves then seen the wins out in professional second periods.
It was difficult to watch those games and not think automatic promotion is still possible, albeit not likely. It is a feeling that will only intensify if they win on Saturday over second-placed Plymouth who are 11 points ahead having played two extra games.
NINE WINS FROM TEN HOME GAMES
The Reds have received a lot of praise for their wins on the road this season, and rightly so, but they have been quietly putting together an impressive run of results on their own turf.
Since Barnsley lost to Lincoln in October, they have won nine of their ten home games in all competitions - eight of which have been by two goals or more.
The only anomaly was the 3-0 loss to Bolton on January 2 in which Mads Andersen was harshly sent off after ten minutes.
The word 'fortress' can now be legitimately applied to Oakwell again and, although it is going to be attacked by the three strongest invading forces in the third tier over the next two weeks as Plymouth, Sheffield Wednesday and Ipswich visit, the Reds will feel they can beat anyone there.
FORM TEAM POMPEY OUTPLAYED
Pompey conceded more goals in three first half minutes than in their previous five games which had brought four wins and a draw.
They are marooned in mid-table but had been on fine form under new boss John Mousinho, beating another top six side Bolton a week earlier.
They suffered an 11th loss in 15 games at Oakwell since 1989.
The tone was set by Cadden brilliantly controlling a clearance just inside the Pompey half in the first minute then surging forward to create a chance. That started a theme of the Reds hoovering up aimless punts from their beleaguered visitors, or pressing them into losing the ball, then attacking with energy and intent. It was too much for the Hampshire side in the first half with their fans chanting 'wake up Pompey.'
Once again the two strikers led the way for Barnsley with their work-rate and pressing - with both registering a goal.
Barnsley totally dominated the midfield battle, especially in the first half, with the Portsmouth players barely able to keep hold of the ball or keep up with their faster, stronger and more confident opponents.
The away midfield included ex-Red Ryan Tunnicliffe – who has played more than 250 Championship games – and Joe Morrell who went to the World Cup with Wales this season but had a shocking first half.
The Reds' defence was barely tested in the first half then actually quite sloppy at times after the break with some poor passes and bad marking for the goal.
But they did enough to see out the win while the hosts had the better chances throughout.
IMPRESSIVE PERFORMANCES THROUGHOUT TEAM
There were very good performances throughout the Barnsley team.
Norwood was excellent, with a goal and assist as well as some tremendous link-up play to create chances plus his usual high-intensity, nuisance performance to rile the visiting defence.
He now has eight goals for the season, while his strikepartner Devante Cole moved onto 11 in all competitions and ten in the league with another close range finish after a hard-working display.
Star man Adam Phillips set up the first two goals and won the ball several times high up the pitch in a fired-up and ferocious performance.
He now has six league assists - the most in the Barnsley squad - as well as eight goals in all competitions.
Luca Connell returned from illness in place of the benched Jon Russell and controlled the game.
He and the equally impressive Herbie Kane were both strolling through the midfield at times in the first half with great skill, twisting and turning past visiting players who could not get near them. After the break it was a more solid and gutsy midfield display to secure the win.
The two wing-backs provided moments of real quality with Cadden's fine goal and Jordan Williams' wonderful pass for the third.
EAST STAND CLOSURE HANDLED WELL
The attendance was more than 6,000 down on the previous home game against Derby but Barnsley's off the pitch team can be proud of their efforts in a different way.
After a huge marketing push to boost numbers for the Rams game, this time it was just a case of getting ticket-holders into the ground after the East Stand had to close.
After a part of the cladding was ripped off by the wind and landed in the carpark on Monday, the club was advised to close the stand while repairs were carried out.
Instead of dwelling on the financial hit the club would take, especially with the lucrative hospitality boxes forced to close, or the difficulties repeating the Derby atmosphere with the largest stand empty, the staff flew into action.
Kiosks were set up outside reception for fans to swap tickets all day, with staff from various departments including chief executive Khaled El-Ahmad helping to man them in cold weather.
The fans - many sitting in unfamiliar seats - got behind their team and must have been delighted with what they saw.
The hope now is that the stand can re-open for Saturday's game and that long-term repairs will be made soon with a new lease agreement between the club and Barnsley Council getting closer.