BARNSLEY Women's FC say they remain a town team 'through and through' despite moving to Sheffield, and hope to return home soon.
The Reds will play next season at the Sheffield Olympic Legacy Park Community Stadium, built on the site of the old Don Valley Athletics Stadium.
The 3,900-capacity ground is the home of rugby league side Sheffield Tigers and Sheffield Giants American football team.
The team - who play in the fourth tier in England - had been based at Wombwell Town's ground, but have been attempting to move to a new stadium in Barnsley for years.
Chairman Steve Maddock said: "The last thing we wanted was to move away from Barnsley. We are hoping to come back in the near future and identify some land. There is no option for us to play in Barnsley at the moment so we have had to move away.
"The new site is only 15 minutes from Barnsley. Leeds United play at Tadcaster and other teams play away from their home cities.
"But it is going to be tough. We are a Barnsley team and always will be. We don't want to move away.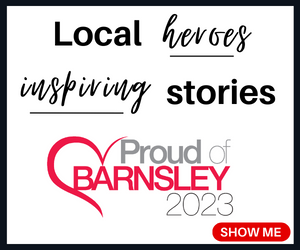 "We have been trying to get our own home now for the last five our six years and the council will not give us any land. We tried at Broadway (in Kingstone) then we were put in touch by the council with the Forge Partnership in Hoyland which was looking good then they pulled the plug again.
"We've been very happy at Wombwell Town, and we're really grateful to them, but they will admit the pitch is not up to standard. We have had players complaining about it and not wanting to sign for us because of it. "We play in the fourth tier, we played at St James' Park against Newcastle last season. We owe it to our team to play at a good facility.
"Wombwell Town got promoted so there will be 11 extra games on their pitch and they asked us to look for somewhere else."
What will it take for the club to move back to Barnsley?
Maddock said: "I have every faith that the council will come through for us. They have to, morally. They have to provide somewhere for Barnsley's elite women's team and other girls in the town. I am sure there will be something down the line."
Barnsley WFC also run an Emerging Talent Centre based in Barnsley College. Maddock said: "There will be a Barnsley Women's FC academy launching, as an educational tool. They will have girls playing football and learning under the Barnsley Women's badge. That is from age ten to 18.
"Our development teams will still be based in Barnsley.
"We are also in talks with Sheffield Hallam University about partnering with them so their students can play for us."
Barnsley FC have just launched a 'professional' women's team, taking over Barnsley Ladies who are in the division below Maddock's club. He said: "We wish them all the best. There is no animosity at all. Maybe there will be some derbies against them in the future."
Coun James Higginbottom, Cabinet Spokesperson for Environment and Highways, said: "We're committed to supporting the growth of women's football in our borough and would like to thank all the coaches and volunteers that help to make this happen week-in, week-out.
"Last year, the Forge Community Partnership and Barnsley Women's Football Club discussed the team potentially hiring a proposed artificial pitch at the Forge Parkside Development in Hoyland.
"There was never any plan for Parkside to host, or possibly host, any additional buildings or stadiums beyond the plan agreed with the Forge Community Partnership. In the future, if BWFC submits a planning application for a new permanent home in the borough, this will be considered like any other application.
"It would also need to have secured full funding from the club's own sources and other private capital, not duplicate other facilities already in place and be in the right location for residents of the borough and visitors to be able to access it."