Charlotte Hutton takes a look back at the Barnsley Chronicle from this week 25 years ago.
A WILD animal, believed to be a puma, has been spotted prowling the isolated moors above Penistone.
It was seen by barrister Christopher Mills who says it came within a few feet of the door of his Dunford Bridge home.
Christopher, 46, had gone out to scrape ice from his car when the security lights flashed on, revealing the animal which ran towards him.
He raced back indoors, bolted the door and told his wife Liz that he had been startled by a big cat.
She laughed at him for being scared until he told her this was no ordinary cat, but a very large, black one.
A spokeswoman for the RSPCA confirmed that there was no need to panic, saying if the animal really was a puma it would not attack.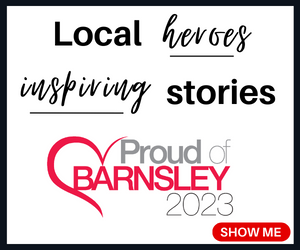 "There have been several sightings of puma-like creatures in the north of England but no photographs have been taken nor has one been captured so we do not know what they really are. It could be a dog, a wild animal, or a puma which has escaped from a private collection."
****
FORMER Chronicle editor Don Booker has been made an MBE in the New Year's Honours List.
It is the first time a Barnsley journalist has been honoured. He received the award for services to journalism and the community.
Don, who retired on his 63rd birthday as the company's longest-serving employee, said: "I am proud it has been given to a journalist for services to the profession. Very few are honoured in this way."
****
FIREMAN Michael Hawkins saved a puppy from an icy grave - by using a stick to create a 50 foot long path across a frozen lake.
Hattie, a Husky-like Japanese Akita, was spotted by bird-watchers frozen solid in the middle of a lake at Carlton Nature Reserve.
To get the dog out Michael used a stick to break the ice and create a path to free the dog, taking 15 minutes to coax her back to the shore.
She had escaped two days earlier, clawing her way through her owner's garden fence after being startled by New Year fireworks.
Chris Shimwell, whose 18-month-old daughter Danielle owns the dog, said: "It is lucky they found her because I do not think she would have lasted much longer."
****
A GLOBE-TROTTING garden ornament kidnapped from outside a Darton family's home has returned home.
Hugo - a tractor-driving pot hedgehog - was snatched from the doorstep of the Dunstone family home on Bonfire Night.
Days later, postcards started arriving from all over the world, all claiming to have been written by the homesick hedgehog.
And when he had failed to return home just a few days before Christmas, the three children - Georgia, 18 months, Olivia, three and Joseph, five, started too prepare for Hogmanay without him.
But then he returned and the mystery was solved - a family friend had snatched him and asked friends and relatives living abroad to send the postcards back to Barnsley.