A SURVIVOR of coronavirus received a hero's welcome as he returned home after spending more than a month in intensive care.
Dino Ciampricotti was taken to Barnsley Hospital on March 31 and put into an induced coma as doctors scrambled to save his life.
The father-of-five - a fit and healthy man with no underlying health conditions - would then begin on the long road to recovery but his wife Nicola, 47, said there were days she 'didn't think he'd make it'.
"He thought it was just a cold at first, and he'd been staying in the spare bedroom because I'm classed as at-risk with two leaking heart valves," she said.
"On the Tuesday night, he dipped massively, so they took his temperature and oxygen levels and took him in.
"Dino can't remember my last words to him before he was put into the coma, but I said 'you better fight this, I love you'.
"I started to think, 'I don't want to be a widow'. You see the people who haven't had that opportunity to come home, and you ask if you're going to go through the same. I feel for them."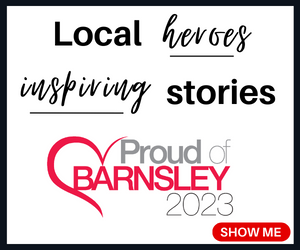 As he had contracted pneumonia as well as Covid-19 and developed a blood clot on his left lung, it would be 32 days before Dino, 55, could even eat or drink.
"The nurses were fabulous, they were always there," he told the Chronicle.
"There are so many to name, but they all know how grateful I was and still am.
"I was very frustrated at first, not being aware of what I had been through and being unable to communicate properly.
"I was all wired up with cables here, there and everywhere."
With contact between the two limited, staff set up a Skype video call so Nicola could see Dino and then, when he had further recovered, let her drop off an iPod so they could stay in touch.
Nicola added: "I was all on my own for five weeks, but I had to be strong for the kids.
"Dino has elderly parents and I was trying to keep them up to date, but holding a bit back because I didn't want to upset them."
A video of Dino returning home to Ravenna Close on Friday - 38 days after he was taken to hospital - was shared by The Full House pub, where the couple were landlord and landlady and Nicola works as kitchen manager, on Facebook.
"It was very emotional," said Nicola. "You can't see me on the video, but I just broke down when I saw the car pull up.
"One of the nurses only lives around the corner and she made sure she came to see him. A couple of them have been asking how he is.
"Our neighbours have been fantastic. They have said if we need anything to give them a shout.
"It's been a tough time.
"I'm glad for him to be home. He finds it hard getting up and down the stairs, but he's doing well.
"I'm unable to leave him alone for simple things like taking a shower, and he's shaking even eating because he's so weak.
"He's lost two stones, which he's actually quite happy about.
"I've just ripped the pages off of the calendar as it was still on March from when he went into hospital."
The pub has raised more than £1,500 for Barnsley Hospital with a fundraising competition.
Check the pub's Facebook page for more information.