A TEAM of eight bus drivers from Barnsley came together to climb Britain's highest mountain - all in the name of charity.
The '16 Boots Group' - made up of Stagecoach drivers Lee Shaw, Dave Maw, Steve Whitehouse, Shane Mawson, Jason Sykes, Richard Andrews, Paul Hancock and Darryl Sidebottom - set off last Wednesday to climb Scafell Pike in aid of Alzheimer's UK.
The bus drivers had spent weeks training for the challenge which took them seven hours to complete.
"It was very difficult but so worth it," said Lee Shaw, 46. "There were definitely points where we felt like giving up but with the help of our guide we took it one small step at a time.
"Without our guide I don't think we would have finished it - she showed us how to walk throughout the two feet of snow that had fallen to make sure that we didn't slip and hurt ourselves."
The group set off from Barnsley at 4.30am to complete the Lake District hike - but Lee said it was worth the early start when they reached the summit.
"It was amazing, words can't really describe it," he said. "I tried taking photos but nothing did the scenery justice, and it felt amazing because we pushed through and didn't give up.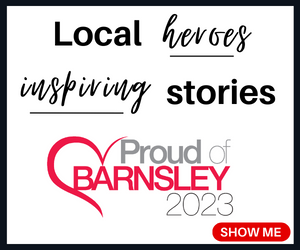 "There were times on the way up where we thought about giving up but knowing how much the cause meant to us spurred us on to keep going."
The team raised more than £1,900 which will be donated to Alzheimer's UK.