MAJOR plans to create a park and ride facility near an 'under-utilised' train station in a bid to encourage commuters to use public transport has taken a step closer - after Barnsley Council agreed to purchase land in order to speed up the process.
Ruling cabinet members - who met on Wednesday - back a plan to acquire the site at Lairds Way, Penistone, to then sell on to the South Yorkshire Passenger Transport Executive (SYPTE).
It paves the way to create the park and ride facility - which the Chronicle understands could be completed by 2023 - as cabinet members' approval means council bosses can now begin 'onward sale' discussions with the SYPTE.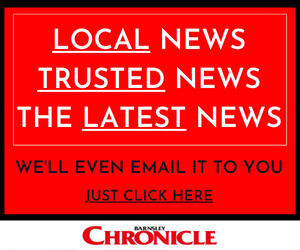 SYPTE director of customer services, Tim Taylor, said: "We've prioritised a park and ride facility in Penistone and are seeking funding to develop proposals for the land at Lairds Way, in discussion with Network Rail.
"The current parking allocation for the station is not enough and we're seeking a long-term solution, alongside our plans to improve services on that line."
* Mayor of Penistone, Andrew Millner told the Chronicle such a project would 'solve parking problems around the station at a stroke' - and it's already been given the seal of approval by MPs in Barnsley.
"I have been banging on about this for more than a decade," he said.
"I totally support this project - we are desperate for more parking in Penistone and this will alleviate many problems, so this is very good news indeed."
The longed-for scheme has become possible with approval for the 400-home development at Wellhouse Lane, which secured Section 106 money - cash put aside by co-developers Barratt Homes and David Wilson Homes - for loss of local amenity.
Yorkshire Land, which purchased the Lairds Way site in 2007 for £500,000, has interests in that scheme and has always indicated a park and ride hinged on the estate going ahead.
Mr Millner believes the site could support 60 parking spaces - a 'significant improvement' on the station's current 15.
SYPTE manages park and ride facilities at Wombwell and Elsecar, while Northern-managed sites are also available at Barnsley, Darton, Dodworth, Silkstone Common, Goldthorpe and Bolton-upon-Dearne.
The Penistone line - which runs from Sheffield to Huddersfield - is also set to receive work thanks to a scheme backed by MPs Miriam Cates and Dan Jarvis.
Miriam, MP for Penistone and Stocksbridge, described the park and ride scheme and line improvements as 'a fantastic opportunity to boost connectivity'.
She said: "This new facility would work well alongside the improvements to the Penistone line.
"It's clear that we need better transport links in and around Penistone, and also to improve connectivity with nearby towns and cities.
"My bid will see a faster and more reliable service to Barnsley, Sheffield, and Huddersfield, as well as allowing for a second train per hour in each direction.
"It also allocates money for a public transport interchange at the station, which would complement a park and ride facility.
"Improving transport links in Penistone will help to connect people to jobs and opportunities across the region, and make the town an even better place to live and do business.
"Local people and businesses need to see the railway as a viable alternative to the car."
Dan, who is South Yorkshire Mayor and also Barnsley Central's MP, added: "Transport is the lifeblood of the economy and it's why I'm working tirelessly to transform our public transport system.
"This will bring potentially transformative employment, training and regeneration opportunities and significantly improve rail connectivity across the borough and further afield.
"It is the missing piece of the jigsaw in enabling residents to access affordable and reliable rail services for work, study and leisure.
"This is a well-supported, ambitious and achievable proposal that would deliver significant transport, economic and social benefits for local communities in South and West Yorkshire."
Dan, who is South Yorkshire Mayor and also Barnsley Central's MP, added: "Transport is the lifeblood of the economy and it's why I'm working tirelessly to transform our public transport system.
"I welcome the proposals to create a park and ride car park at the land off Lairds Way.
"This will mean that previously derelict land is put to good use, provide additional car parking capacity and relieve some of the congestion in Penistone and support our wider public transport work across South Yorkshire."