IAN SAGAR is captaining Great Britain in his third Paralympics and hopes to win gold for his baby son and hometown of Barnsley while inspiring other disabled people.
The 39-year-old from Hoyland Common has been in a wheelchair for most of his life after a motorbike crash as a teenager.
While he was recovering, he began to play wheelchair basketball and has made a career out of the sport, living and playing in Italy while representing GB at London 2012, Rio 2016 and now the Tokyo games which have just begun.
Sagar told the Chronicle: "When I was in hospital all those years ago, I was awfully scared and depressed about what kind of life I would have as a disabled person. But I have had an excellent life and an exciting life. I have done lots of things that I would never have done if I hadn't had my accident.
"I have represented Great Britain in three Paralympics and travelled around the world playing the sport I love.
"To any disabled kid that feels sorry for themselves, please don't feel like that because you can create a fantastic life for yourself. If I can do it, anyone can."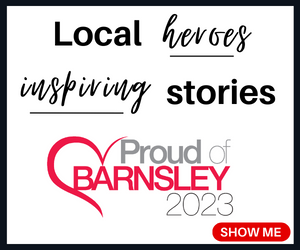 Sagar narrowly missed out on a medal at London 2012, as his team lost the semi-final and bronze medal match, but they snatched bronze four years later in Brazil. Now he is going for gold.
"In London, I was playing for my mum. In Rio, I was playing for my daughter.
"In this one, I am playing for my baby son, William.
"I want to bring a gold medal home for him.
"The other motivation is to win gold for the town of Barnsley.
"I am Barnsley born and bred, through and through, and proud to represent the town. I have a Yorkshire Rose on my luggage to differentiate it from everyone else's in the team."
Great Brittain began yesterday with a 70-43 win against Algeria then lost to Germany this morning. They then play a group game every day until Monday with the hope of qualifying for Wednesday's quarter-finals. Sagar said: "We're ranked number one in the world.
"We'll be doing everything we can to get the gold medal, which you can't get better than.
"I don't think you could get a better team than the one we have at the moment so we have a really good chance.
"We have the group of death with USA, Australia, Germany and Iran who are all top teams.
"But I think that's good because we will have hard games all the way through and be prepared for the knock-out matches. It's just about finding our feet in the group stages and making sure everyone gets minutes and stays sharp.
"Hopefully I can captain this team to glory."
Sagar and his team prepared for the trip to Tokyo with training camps at Loughborough University and the English Institute of Sport in Sheffield.
He stayed at his parents' house in Hoyland Common, where he also quarantined before the flight to Japan.
"The hardest part is spending two months away from my family.
"But it's been nice to see my parents. My mum was trying to fatten me up on Sunday dinners but I kept them at bay.
"My mum and dad helped me through everything from the very, very start.
"It's been nice to spend extended time with them. It eases the pain of being away from my wife and kids."
The Paralympics are not being played in front of fans and the athletes are being regularly tested for Covid-19.
Sagar, who flew out last week, said: "We had heard some horror stories a few months ago that we were going to have to stay in our rooms at all times except to train or play.
"But the stories coming back from the Olympics were much more positive than that so we knew it would be OK. We are allowed outside when we want and it's not that bad. Obviously it's different to a normal Paralympics when you could see a lot of the host city and culture, but that is unavoidable at the moment.
"It is a shame not to play in front of fans but we just have to make it all about the sport and about winning gold."