IAN SAGAR says missing out on the Tokyo final was 'soul-destroying' but is proud to be a double Paralympic medalist after a draining fortnight in which he had to be player, captain and coach.
The GB wheelchair basketball team were favourites for gold and won their group but lost to hosts Japan in the semi-final on Friday before beating Spain to win bronze.
It was a third semi-final loss for Sagar who had missed out on a medal in London but won bronze in Rio.
The Hoyland Common man, who flew home on Monday, said: "With us being the world number one team, we wanted to win gold. But we ran into a Japanese team on their own turf who were ranked eighth in the world but came out of nowhere to beat us.
"It was soul-destroying and very, very hard. There was an immediate sense of failure and we were almost embarrassed. But we had a big team meeting, talked it through and picked our heads up. We knew that, after all those sacrifices for us and our families, to go home empty-handed would be an absolute disaster.
"We didn't want to let Team GB down. But we came back and won bronze.
"Any Paralympic medal is a fantastic achievement and it means a hell of a lot. I am just so happy I didn't come home empty-handed.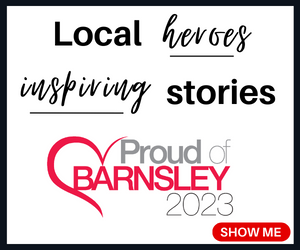 "Being a two-time Paralympic medalist is nothing to be sniffed at."
Sagar – who lives and plays professionally in Italy – wanted to win a medal for his baby son William.
"It's heavier than my other medals so he struggled to hold it. But he has his piece of jewelry and he's very happy.
"My other two kids have already raided my bags for kit that they can use."
Four days before GB flew out, their coach tested positive for Covid so captain Sagar and fellow veteran Gaz Choudry took over as player coaches.
"It was a big ask to go there with no coach and still get the job done.
"It's a real achievement.
"We had other nations' coaches coming up to us to congratulate us on how we managed the situation.
"Not many teams would have had the force of character to do that.
"Our coach was still in contact but it did double our workload."
Sagar scored 44 points in the tournament. He said: "I did well.
"I played a big part in the one-point win over USA in the group and then I managed to keep the guys fighting when we were 25 points down against Australia and we won.
"I think I did my job well enough to make sure we could win something."
Sagar said before Tokyo that it would probably be his last Paralympics, but now he has not completely ruled out playing in Paris in 2024.
"The European Championships are in December then the World Championships and then Paris.
"I am just going to enjoy two weeks off then chat with my coach and my wife.
"It's getting harder, not from a physical point of view, but being away from my family.
"We'll see what happens.
"I had been driving 16 hours every week from Italy to Germany to play at a good level and prepare for Tokyo.
"It worked because I captained the team to a medal.
"But it was a big sacrifice."
The athletes had to have a saliva test every day in Tokyo due to Covid-19.
"I was scared it would be like a prison atmosphere but you could go out in the open whenever you wanted. I had an incredible view from my balcony of Tokyo Bay. I thought Covid might ruin the whole experience but it didn't.
"I only heard of one athlete testing positive, an Iranian player just before we were due to play them which was a bit worrying but it all went ahead still."
Sagar, 39, has been in a wheelchair since motorbike crash as a teenager.