DIWALI lights were switched on in the town centre last week in an emotional tribute to organiser Harshad Patel who died suddenly earlier this year.
The lights were lit up to celebrate the Hindu festival of lights - and to bring in Indian new year.
As well as being a cause for celebration, members of the now disbanded Gujarat Association used the time to reflect on former chair of the group Harshad who died suddenly in February aged just 67.
Harshad had formed the group more than two decades prior in a bid to create community cohesion and improve race relations in the town.
A prominent figure, Harshad was a magistrate, hospital governor and a science teacher and was instrumental in bringing Diwali lights to Barnsley.
Barnsley is still the only town in South Yorkshire to celebrate the festival each year, and MP Stephanie Peacock and Mayor Caroline Makinson helped to launch the event with the ceremonial breaking of coconuts.
Harshad's daughters, Sheena Patel and Nisha Hodges, led tributes to their late father - and thanked members of the group for making one last trip to continue Harshad's legacy.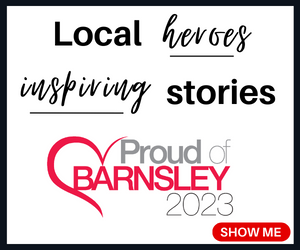 Since Harshad's death, the group has since disbanded, and the event was the last that Harshad had a hand in organising.
"Dad normally organised this event, and I know he will be happy that everyone is gathered here to celebrate," said Sheena.
"We have celebrated Diwali with lights in Barnsley for 19 years now and it is our equivalent of Christmas.
"It is strange to be here without dad, but he helped to bring us all together so in a way he is still here."
Nisha added: "Dad saw it as his duty to help promote racial harmony. We are so proud of what he has achieved and I am proud to have been able to call him dad."