THE RACISM scandal that has engulfed Yorkshire County Cricket Club in the last weeks and topped national news bulletins for days involves several key figures with Barnsley connections.
The town is where Azeem Rafiq and his family arrived when he was a young boy, after leaving Pakistan two decades ago.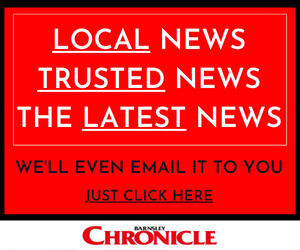 He attended Holgate School and made his name in the youth system of Barnsley CC before being picked up by Yorkshire.
Azeem still lives in the Gawber area, and last month opened a fish and chip shop in the town centre, having previously owned a post office in Barnsley during his cricket career.
It is also the hometown of Yorkshire's director of cricket Martyn Moxon who has faced mounting calls to resign, along with others, and is one of several senior figures who are expected to face a grilling by government ministers on Tuesday.
Moxon has now been signed off from work with a stress-related illness.
Rafiq allegedly told chief executive Mark Arthur – who resigned on Thursday evening – and Stairfoot man Moxon of the racism he was experiencing in 2017 and the club have admitted that complaint was not handled appropriately.
The duo have also faced criticism for overseeing a culture where racist language was used around the club.
This town is where Rafiq and Gary Ballance – who has admitted to calling Rafiq a 'P**i' in repeated exchanges described by the club as 'banter' – were part of a star-studded Barnsley CC side that competed for the Yorkshire League title in 2010.
Rafiq is one of the best sportspeople from Barnsley in recent decades, taking more than 100 Twenty20 Blast wickets for Yorkshire and becoming their first captain of Asian heritage. He also captained England under 19s.
But he must also be remembered, and praised, for his bravery and resilience during the last 15 months – as well as the painful prior years.
The story has become national news recently, since ESPN revealed extracts of the report including the panel's finding that saying 'P**i' is banter – which horrified the public and provoked both the ECB and government into action.
Others are now coming forward and admitting they were racially abused at Yorkshire.
The club has been almost universally condemned and Rafiq finally feels the change he has called for may happen, but there was a long time when he was almost a lone voice and had little support.
He had already been through incredible pain, battling depression and then losing a baby.
Having struggled with mental health issues and considered suicide – which he attributes to the racism he experienced – he decided to put himself and his family through another ordeal with this investigation.
His stated motivation all along has been to make sure that the next generation of cricketers do not experience what he did.
Some cynically say he just wanted a settlement from Yorkshire, which he now has, but his refusal to sign a non-disclosure agreement and the setting up of a bursary in his name for players from Asian backgrounds and his funding of another for working class journalists, shows there is much more to it than that.
The impact of this scandal goes to the very top of the sport in this country.
Rafiq will now give evidence in front of the Department for Culture Media and Sport select committee on Tuesday. He is likely to be protected by parliamentary privilege, meaning more damning details are expected to be revealed.
Other high-profile players are expected to be named.
Michael Vaughan, the former England captain, revealed he has been accused by Rafiq of saying 'there are too many of you lot' to a group of Asian players including Azeem and Naved Ul-Hasan, who has corroborated the story.
Vaughan has been withdrawn from his duties with the BBC. He denies the 'you lot' comment.
The ECB has already suspended Headingley from hosting England games and The Hundred 'until it has clearly demonstrated that it can meet the standards expected of an international venue, ECB member and First Class County.'
But Rafiq also believes there are problems to be weeded out of the grassroots.
Roger Pugh, the South Yorkshire League official who said the racism towards Rafiq was him 'reaping what he sowed' after being 'discourteous' in the past, has been recommended for a new position by Barnsley Woolley Miners.
Rafiq has alleged that he was pinned down and forced to drink alcohol as a teenager at Shaw Lane, while the Barnsley chairman has recently been embroiled in his own racism controversy for comments he made online.
Lessons must be learned from top to bottom in the sport.
Both the ECB and Yorkshire have blamed each other for not acting sooner but ultimately it has been the media, especially EPSN's George Dobell, who have made the authorities finally take notice.
Yorkshire commissioned an investigation by a law firm which, despite now being called 'flawed' by the club's chairman, upheld seven of Rafiq's more than 40 claims and led to the club apologising for racial harassment and bullying but refusing to acknowledge it was an institutional problem or punish any staff.
It was only the shocking leaked details in that report that prompted the recent action from the ECB and goverment.
Geoffrey Boycott and Darren Gough, two other famous former Barnsley and Yorkshire players, have condemned the white rose county's handling of the investigation.
Chairman Roger Hutton resigned and has been replaced by Lord Patel of Bradford, who said this week that 'racism is not banter, it's simply unacceptable', adding it has been a 'painful and difficult period for the club' and thanked 'whistleblower' Rafiq for his bravery.
Lord Patel added: "We are sorry for what you and your family experienced and the way in which we handled this.
"What happened to you must never happen again to anyone.
"As an outsider coming into this situation it is clear to me that we have handled this badly and the investigation was flawed."