Footballer Bethany England, from Kingstone, has been in action with England in South Yorkshire this week and is now due to play in the FA Cup final at Wembley.
The 27-year-old striker netted twice as England beat Latvia 20-0 in a World Cup qualifier in Doncaster on Tuesday.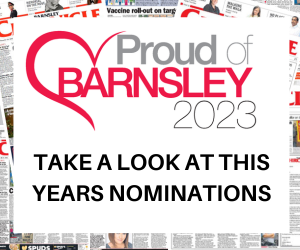 She also plays for Chelsea who face Arsenal in the FA Cup final at Wembley from 2pm on Sunday.
It is last season's cup final which was delayed due to Covid-19.
Bethany, who grew up in Barnsley, told the Chronicle: "Fingers crossed we can do the job.
"The FA Cup is the only one I haven't won yet out of the English trophies so I really want that medal round my neck.
"Every footballer dreams of winning the FA Cup at Wembley.
"I played in the final in 2017 and we lost 1-0 to Arsenal which was quite sad.
"We have another chance now to get a different result.
"Arsenal have been really good this season and beat us in the first game of the league so it's going to be a very very big and exciting game.
"My family are going to travel down and hopefully it's a good day for us all."
England's women won 1-0 against Austria on Saturday at the Stadium of Light in Sunderland, with Bethany an unused substitute.
They then gained a record 20-0 win against Latvia at Doncaster Rovers' Keepmoat Stadium on Tuesday.
Bethany, who started her professional career with Doncaster Belles, started the game and netted the 12th and 19th.
She now has eight goals in 15 games for her country.
England are top of their World Cup qualifying group with six wins from six while they have scored 53 goals and conceded none.
Bethany said: "The Austria game was always going to be the toughest we have had so far in the group but it was good to have that test.
"It's been crucial what we've done and it's amazing that we've scored as many as we have.
"We're in a good position in our group and we want to win it with flying colours.
"You want to represent your country and play as much as you can, then get as many goals as you can as a striker.
"The Keepmoat is where I started off with Donny Belles so it was nice to revisit.
"It was great to have a lot of friends and family in the crowd which is always more special.
"It's important that the games are not always based at Wembley, it's great to play there but it's nice to cater for the whole country."
England, and other leading nations, have won by huge margins in these qualifiers – raising questions about the strength in depth of women's football.
Bethany said: "It can happen in the men's game as well.
"Certain teams and countries don't put as much money in to the women's game but, as the game grows, the gaps will close and the games will be much tougher."
Before the World Cup in 2023 in Australia and New Zealand, England will host the European Championships next summer.
"I am thinking about it all the time. everyone wants to be part of that squad
"Your friends and family will be able to watch you.
"It will be massive for women's football in this country and generate a lot of crowds.
"It would be so exciting to be in the squad but there is a lot of competition so I have to be at my best.
"I am yet to experience a major tournament and I couldn't think of a better first one than the Euros on home soil."
England has scored three goals for Chelsea this season but has often found herself on the bench behind the likes of Australian superstar Sam Kerr.
Emma Hayes' team are second in the WSL behind Arsenal after winning the title and League Cup last season then losing in the Champions League final.
"It's really tough at the top when there is competition for places.
"I want to play all the time but things are obviously going well for the team at the moment.
"We have another big game after the FA Cup final against Juventus in the Champions League.
"The aim is to get to the final again and win it this time then, domestically, we want to retain the league and Conti Cup and there are two FA Cup finals as well.
"We want to win as much as we possibly can."