FROM former cricket umpire Dickie Bird to tireless campaigner Claire Throssell, Barnsley's residents have long been awarded for their actions - and there's now five more people added to the Queen's New Year's Honours with links to the town.
FareShare Yorkshire, whose headquarters is on the Aldham industrial estate in Wombwell, has been recognised as its chief executive, Gareth Batty, received an MBE for services to the charity sector.
He has been supporting front line community groups with surplus food since 2013 - and the charity works with a wide range of national and regional partners to help individuals and families in the community.
Since 2013 FareShare Yorkshire has redistributed more than 8,900 tonnes of food to its community food member network - the equivalent of almost 21.3 million meals.
The charity has also supported volunteers and trainees by delivering employability programmes and has also opened FullCrumb Kitchen cookery school which uses surplus food.
Gareth said: "I am humbled to be included in the Queen's New Years Honours List and receiving an MBE in recognition of the work of FareShare Yorkshire.
"The work of the charity would not be possible without our incredibly hardworking team of staff, volunteers and board of trustees, who's dedication and determination to make a difference is inspiring.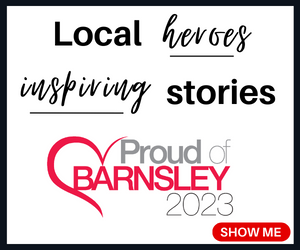 "My heartfelt thanks go to the 400 charities we work with each week who make it happen on the frontline, providing invaluable support through the provision of food.
"I am proud to accept this award on behalf of every single one of them."
Former Royston High School teacher, 59-year-old Ken Dunn, was awarded an MBE for services to development and local communities in Lesotho and sub-Saharan Africa.
Back in 2003 when Ken was the head of geography at the school, he took students on a trip to Lesotho - a country encircled by South Africa.
He has since been taken groups of pupils, and now university students, to the country to help its residents - now as chair of Africa's Gift.
He told the Chronicle: "It all started back in 2003 when I got a group together and went to Lesotho.
"It's got bigger and bigger since then and it was the start of something extraordinary - it all began at Royston High School.
"It's been transformational some of the things we've done.
"Our first project involved transforming a piece of land in Royston into an eco-friendly garden powered by wind turbines."
This project was then transferred over to the staff and pupils at the Malealea school - and the project has been described as 'life-changing' for so many.
Melanie Oldham, the chief of cyber-security firm Bob's Business, has been awarded an OBE for her 'outstanding' contributions under the Yorkshire Cyber Security Cluster.
The business was founded in 2007 from its Barnsley base - and it's now helped transform cyber-security awareness among organisations across the UK.
She said: "I am truly honoured to be awarded an OBE for services to cybersecurity.
"As a woman in a largely male-dominated industry, it is my firm belief it's crucial that we continue to give opportunities and support to those who want to enter the sector, and to view talent without preconceptions.
"To be recognised as a leader in cybersecurity sends a positive message that, regardless of their background, a career in cybersecurity is possible for anyone."
Peter Murray, the founding and executive director of Yorkshire Sculpture Park, which borders Barnsley, has been awarded a knighthood by the Queen in recognition of his services to the arts.
Around 500,000 people visit the 500-acre site every year and more than 40,000 people are welcomed to participate in learning opportunities.
He has led the organisation for more than four decades, since its inception in 1977, starting with £1,000 and no employees.
Yorkshire Sculpture Park now employs more than 200 people and generates around £11.5m for the local economy.
He said: "It is a great honour for me and YSP. I think the award acknowledges the importance of the organisation to the wider pubic and the contribution it continues to make to arts and culture, and the economy."
Cynthia Hindley, 84, has also been awarded an OBE for her services to the community in Barnsley.
Having been born and grown up in Cawthorne, Cynthia left after she got married but returned in 1993 as she wanted to 'get back to her roots'.
A former parish councillor and chair of the village hall, she has been the go-to woman in the area when people need some help.
She has also played a key role in the Mother's Union, but she's also incredibly humble and said that the award is as much for the people of Cawthorne as it is for her.
"I am so, so lucky that people of Cawthorne have been as supportive as they have," she added.
"I'm so thrilled with it - it's so kind that someone appreciates what we to highlight it.
"I just see myself as an organiser and a collector - there's so much done by other people and it's their award as much as anything."