BY the time Coun Caroline Makinson hangs up her chains in May she'll be etched in the history books as the longest-ever serving Mayor of Barnsley. She spoke to reporter Jack Tolson about her Covid-hit tenure...
Caroline has served on the council since 2013 and is currently a Labour councillor for the Royston ward, but in October 2020 she became the town's mayor.
Usually, mayors are only in the role for 12 months as they're sworn in at annual council meetings but due to the Covid pandemic, Coun Makinson will have been in tenure for 19 months - making her the town's longest-ever serving mayor.
She was originally elected in May 2019 but wasn't welcomed into post until October last year.
Despite her Covid-hit term at the helm, she says she's thoroughly enjoyed and is proud to have been the mayor of a town she holds so close to her heart.
"It all had to be done remotely when I became mayor because of social distancing and it's usually done at annual council - but me and my husband still had a takeaway to celebrate," she said.
"By the time I finish in May I'll have served 19 months - which is an extra seven months - but it's been in unusual circumstances.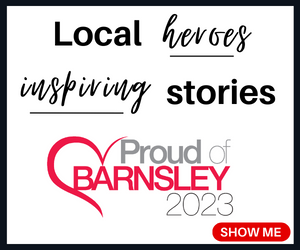 "The longest-serving mayor before me was Pauline Markham who had an extended term of 17 months.
"I feel very privileged to be mayor in such unprecedented times.
"I know how inspiring Barnsley people can be in normal circumstances - people have been absolutely unbelievable in the last two years."
As a result of the work people have been doing over the last two years, the council introduced a Spirit of Barnsley award - which recognised the outstanding contributions shown by residents throughout the pandemic.
"We had 4,000 nominations for Spirit of Barnsley," she added.
"It's been fantastic to see what amazing things people have done.
"I visited Priory Campus in the new year and saw all the unbelievable work they all were doing.
"I can't stress enough how thank we all are for the volunteers - it blew me away."
As part of the mayor's service, Caroline chose two charities to raise money for during the pandemic - Beacon South Yorkshire and TADS (Therapies for Anxiety, Depression and Stress).
"Both charities got £3,137.50 each and we've still got to count up the next 12 months which we're hoping will be a substantial amount," she said.
"We've helped other charities as well.
"Although those are the two we've chosen we do offer support wherever we can."
During her tenure she's highlighted a number of key events she says she'll look fondly upon when she steps down in May.
These include welcoming children into the town hall, Mayor's Day, the opening of the Glass Works and the unveiling of the town's Covid memorial.
"A big event was the Covid memorial sculpture unveiling," she added.
"It was very emotional and it's really important that we remember all the key workers who are heroes.
"I hope that it helps the families of the people who have lost a loved one - it was the first in the country.
"When Janine Dyer was singing I think everybody broke down - it was absolutely outstanding.
"In my time I've been keen to get children and young people in the town hall.
"They're always asking funny questions like 'how many TVs have you got?', 'how old are you?' and 'do you own the town hall?'
"A lot of them have never been to the town hall before and it's really important to get that generation involved."
Asked whether she has any advice for incoming mayor Coun Sarah Tattersall, she added: "You've got to plan and prepare for what's expected but just enjoy it - it'll fly by.
"Everyone is always pleased to see you when you're the mayor and it's not the same when you're a councillor.
"There's a lot to be proud of in Barnsley and to be mayor of a town I love is a great honour."