JOE ACKROYD was thrilled to make his debut for his hometown club Barnsley this week but admits 'I haven't really done much' as he looks to have a long career with the Reds.
The 19-year-old midfielder from Darfield came on for the final 15 minutes of the 5-4 extra-time win over Barrow in the FA Cup on Saturday.
"It was a great feeling," Ackroyd told the Chronicle.
"I knew I would be on the bench for a couple of days. Then, in extra-time, Mally (Romal Palmer) was getting cramp and they told me to warm-up so I thought 'this is my chance'.
"It didn't feel real at first but after a minute or two I settled down.
"I had been working towards that all my life really and put a lot of work into it so it was nice, but I just wanted to help the team get over the line.
"It's special for everyone who has helped me a long the way – coaches, my family. It is massive for the fans to see someone from Barnsley play for the first team. We're a hard-working town and they pay a lot of money to see us so hopefully it was special for them as well.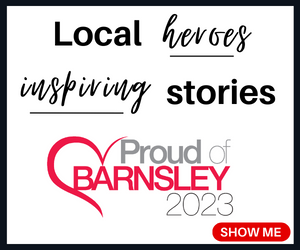 "My phone was going crazy after the match. Everyone was messaging me with support. But it's made me want to push even harder, play more and keep making everyone proud."
Ackroyd went to Upperwood Primary School and Netherwood Junior School.
He played for the now-defunct Darfield JFC until he joined Barnsley aged ten, having missed out after a trial the previous year. He was a regular in the stands as a Reds fan then was a ballboy from the age of 12.
"From being ten years old, everything you do is to get to the moment when you play in the first team. But I still haven't done much. I will keep working hard and not get complacent. I have had a lot to do and want to play a lot more games.
"I want to get on a couple more times this season and help the team. The main target is to try to stay up. We have got the players to do it."
Academy manager Bobby Hassell was watching from the stands.
He said: "It was great for the boy.
"He's got an unbelievable attitude and he loves the football club and he'll always remember that day. But, as we always preach to the lads, you're not a footballer until you have played a lot more games than one. It's up to him to force his way in in the next year or two.
"He has a lot to work on and room for development but he has the attitude and willingness to learn which is the most important thing and it's missing from a lot of young players now."
Barnsley led 2-0, 3-2 and 4-3 but the ten men visitors levelled three times before losing in the added period. Ackroyd said: "We couldn't believe it on the bench.
"It was just goal after goal. When I came on we were just trying to see the game out and we were quite comfortable.
"I probably won't play in a game like that again."
Asked which Barnsley players were his heroes, Ackroyd said: "In most recent years, Alex Mowatt.
"I have tried to put a lot of stuff from his game into mine. I watched him a lot as a young lad and he's a great player."
Ackroyd believes others from the academy will break into the first team.
"There is talent all the way through the academy. As long as they keep giving everything every day they will have a good chance with this club."
Ackroyd has been captain of the under 23s, whose coach Martyn Devaney was on the first team bench on Saturday.
"I have worked closely with Davvers and he's brought my game on a lot.
"Tom Harban was my coach pretty much all the way through. He's helped me a lot as a player and person.
"There are a lot of other coaches who play a big part. There are too many to mention but I am grateful."
Ackroyd has also enjoyed working with first team coach Poya Asbaghi.
"He's been great with me, trying to help me tactically. He's very approachable. He's a great manager and I think he will do a good job."