POLICE 'incompetence' has been blasted by a business owner - who watched back CCTV footage of a break-in to find a patrol car driving past the scene.
Snell and Robins furniture shop, on Doncaster Road, was targeted by an opportunist thief who came away with a Barnsley Hospice charity collection box at around 3.30am on Saturday.
Director Clive Watkinson was greeted by smashed glass and alarms ringing when he arrived for work later that morning.
But he said it's something he and other business owners in the area are 'resigned' to, and there's little else that can be done other than clean up the damage and press on.
Clive said the firm, which is decades old but started selling furniture seven years ago, is broken into two or three times a year.
"The main thing for us is seeing the police car going past, who clearly wasn't on an emergency call as there were no flashing lights," said the 49-year-old.
"There was a thief inside and a person-sized hole in the window, with blue lights flashing and an alarm blaring.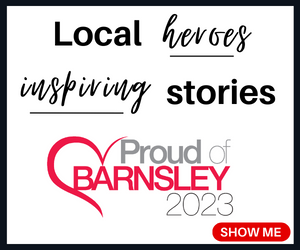 "Not one police car travelling up or down that road noticed it until I found it at 8.30am.
"Had they caught them, it would not only have solved this straight away, but also other crimes as well as they're not done in isolation.
"The sad thing about it, is that we've become resigned to it.
"It happens so often now we keep a board ourselves that's cut to the size of the window. You get upset when it first happens, then start getting a bit edgy, then we start thinking, 'we better get the board out again'.
"I know police resources are tight, but it's not resources you need, you could employ 500 people but if they're all incompetent it wouldn't make a difference - it's a competence problem."
A 29-year-old man has been arrested in connection with the burglary, as well as recent break-ins at Barnsley Municipal Funerals - also on Doncaster Road - and an address in Kendray.
Clive, also on the board at Barnsley and Rotherham Chamber of Commerce, said he made a formal complaint to South Yorkshire Police following a similar incident last year.
"The point isn't the amount they've pinched, it's the inconvenience and expense of the damage," he added. "In this case, we've not lost anything, but it's the £600 for a new window, and the fact it took an entire morning to clean up.
"We open at 9am and had customers trampling all over bits of glass.
"These windows explode when they get kicked and launch glass 30 feet across the showroom in tiny fragments - one customer cut their hand on it.
"A very kind customer brought in £20 to replace the collection box which was stolen. We've got far better things to do in the current economic climate than deal with idiots breaking in and taking 20 quid out of a charity box."
A Barnsley Hospice spokesperson said: "It is extremely disappointing to learn that a Barnsley Hospice collection box was stolen, and that funds intended for the hospice will not be used to support our specialist palliative care.
"We would like to thank the store and those who have made donations in support of the hospice, and we wish Snell and Robins all the best for the future."
Temporary Chief Inspector Rebecca Richardson, head of neighbourhoods and partnerships, said: "We are currently speaking to the complainant both in terms of gathering evidence as to what happened during the break-in and discussing our response to the incident as well as providing reassurance to both them and the surrounding community.
"We have worked hard since being made aware of these incidents to bring this suspect in and hope that it shows we will chase down all suspects posing a threat to the communities we are proud to serve."