COVID heroes, iconic literary characters, a nod to the borough's mining past - visitors to Barnsley can't walk far without stumbling across one of artist Graham Ibbeson's works.
The 70-year-old's 'Reverence' sculpture was made a focal point of the £210m Glass Works development, and championing local arts and culture has been at the centre of Barnsley's recent regeneration.
And now - tying together scattered landmark sculptures of Billy Casper, Dickie Bird, and the Oaks Disaster Memorial on Church Street - a collection of rarely-seen fibreglass casts used in the sculpting process of Graham's other famous works is open in one of the Glass Works' museum spaces.
It's part of a collaboration with Barnsley Museums which will see an exhibition of Graham's drawings at the Cooper Gallery and - the Chronicle can reveal - a surprise turn in one of his most notable schemes, the Barry Hines Memorial Statue Project.
"This runs for quite a long time, and then in between, my drawing exhibition opens on July 16, so there's a two-week period where both exhibitions overlap," said Graham, who has turned to drawing after a period of ill health made the sculpting process more difficult.
"What we're doing is bringing the Cooper Gallery into the centre of Barnsley.
"Anybody can walk in here, enjoy it, and it points them in the direction of the Cooper."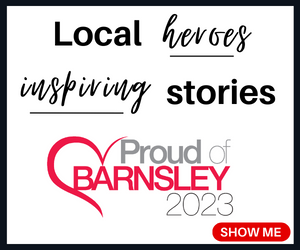 The fibreglass sculptures come before the characteristic bronze models and are, in Graham's words, the 'originals' - as the clay used in the moulding process is destroyed along the way.
Eric Morecambe, Laurel and Hardy, and - seen for the first time in public - Ken Dodd are all on display in fibreglass.
Graham said he's now done with commissions as he focuses on his own work, but his creations have always found their inspirations in his life and people he knows - including wife Carol whose likeness is lent to the Scales of Justice, sited at Middlesbrough Combined Court, who holds apart two fighting children.
"It's a portrait of my wife, but they're not my kids," he laughed.
"These kids are straight out of the Dandy and Beano.
"She's completely impartial, she's aware of what's going on but she's not judgemental.
"There aren't many people who have seen the Benny Hill, although that's been in the Cooper before.
"With the Eric Morecambe, we'd been trying to raise money for six years, and Lancaster City Council got in touch with me the week before Christmas to say they had a special person coming to Lancaster and Morecambe Bay.
"So I asked who it was, and they said the Queen - so I said I'd get it done.
"The Duke of Edinburgh, when we unveiled it, shouted, 'what do you think of it so far?'
"And 1,000 people shouted 'rubbish'."
While 'Casting Characters', as it's been dubbed, runs until July 31, a drawing exhibition at the Cooper Gallery - inspired by Graham's childhood - will open in July until early September.
"I'm not doing any more commissions, unless someone wants to scale my own work up.
"I'm into 1950s council house estate 'cowboys and Indian's at the minute.
"I was brought up on a council house estate, and I loved it.
"I had friends, big gardens, and a quadrangle in the middle.
"My dad used to call me the Lone Ranger, and my sister 'Little Runny Nose', the Indian.
"I've done some drawings of my granddaughter as a sheriff and my grandson as 'the Barnsley bandit'.
"I've really enjoyed doing it.
"When I was ill, I couldn't even lift a bag of clay, so to be creative I started drawing again.
"There are 30 of my drawings that are going to be shown in summer.
"It's a combination of gag drawings, nostalgia, angels - Pre-Raphaelite stuff - and portraits of my family, and it all overlaps.
"I use humour as a tool to bring people in.
"I'd rather them laugh or look at themselves in a different way, than going round the gallery scratching their chin."
Graham described finding a permanent site for his sculpture dedicated to one of Barnsley's most famous sons as 'fulfilling a dream'.
But it was always the plan of the Barry Hines Memorial Statue Project - to create a lasting memorial for the Hoyland-born author of 'A Kestrel for a Knave' - to give something back to Hines' hometown.
The project formed by one of the teacher's former pupils, Ronnie Steele, began fundraising in 2018 on the book's 50th anniversary and successfully gathered more than £100,000 needed to create the statue.
The bronze sculpture was unveiled on Cheapside in October, but Graham revealed Hoyland Library will soon be the site of an identical fibreglass model of the life-sized statue of David 'Dai' Bradley as Billy Casper from the 1969 Ken Loach film 'Kes'.
"We did a mould directly from the clay, then I asked them to do a fibreglass cast from the same mould they did the bronze," he told the Chronicle.
"I've got that in my studio.
"It's an exact replica of the one in the town centre.
"Barry Hines lived in Hoyland, and the committee that raised the funds decided to donate the cast to the people of Hoyland."