AN acclaimed poet's debut novel - set in his hometown of Barnsley - has been snapped up by a publisher in a 'significant' pre-emptive deal.
Andrew McMillan, 33, will see the novel published in 2024 through Canongate in the UK and Commonwealth, with German and French releases also in the pipeline.
Andrew's past poetry work has won a number of awards including the Guardian First Book Award - the first awarded to a book of poetry - a Northern Writers' Award, and awards from the Observer, Telegraph and the Sunday Times.
The upcoming novel, titled 'Pity', is an exploration of community, masculinity and sexuality that - much like the work of Andrew's dad, Ian - takes specific pride in how locals speak and act.
Andrew's idea for the novel sprung from his A level studies at Barnsley College, where the then-17-year-old studied John Ford's play 'Tis Pity She's a Whore'.
The narrative changed over the years, but the title and setting remained the same.
"It's not really that story any more," he said.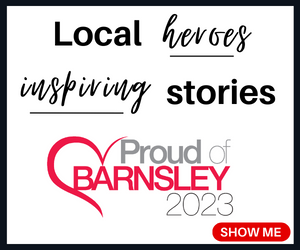 "It's more about the ways that people talk about a place, when they aren't from that place - how the national narrative is different from the reality.
"Different versions of a place exist in the minds of people from London and the people living there.
"But wherever you're from, and whatever your voice is, that can be worth writing about."
The novel is focused on three generations of one family, cycling through the miners' strike and its impacts - described as 'both a lament for a lost way of life and a celebration of resilience'.
Andrew is now a senior lecturer at Manchester Metropolitan University but occasionally manages to get back to see his mum and dad in the house in Darfield where he was brought up.
"Having that distance, you look on it in a different way as well," he added.
"It's been about ten or 12 years so it's come to a point where I've not lived there for longer than I did live there.
"Parts of the novel are specifically set in Darfield - there's an allotment I can remember my grandad having.
"There's also the Alhambra in Barnsley, the old Pollyanna shop, the football ground.
"But Barnsley's story is a lot of what could be said of other post-industrial towns."
Finishing the novel was a huge milestone, but the work doesn't stop there - with two years of preparing it for release now underway.
"Poetry is small, you can fit it around your life, and this is something I wanted to write for years but never had time," said Andrew.
"I needed to sit in the world of it. It was a coincidence that I had a bit of time over lockdown to really think about it."