A MUM-OF-THREE diagnosed with terminal cancer - who gave birth to a healthy 'miracle baby' in the midst of her battle - says that if love could save her, she would 'live forever'.
Lois Walker, 37, faced a years-long back-and-forth with doctors and GPs before receiving the diagnosis - which goes back well before the birth of now eight-month-old Ray, named because he was a 'ray of sunshine' in heartbreakingly dark times.
But she's now decided not to hear how long she might have left, and instead is focused on making memories with her children - 13-year-old Cole, three-year-old Ronnie and baby Ray - and partner Dale Wistow.
Lois has also been overwhelmed by support after a fundraiser set up by her sister Megan Keating Walker, 27, raised more than £6,000 for Cancer Research UK in just a few days.
The two will 'brave the shave' on Boxing Day, Lois's 38th birthday.
She said she had suspected skin cancer in 2018, but it was seemingly treated and it was after Ronnie's birth she began to develop what were passed off as digestive issues.
She would later learn she has a rare mutation in her BRCA1 gene - which makes people much more susceptible to breast and ovarian cancer - and Ray was born surrounded by cancer.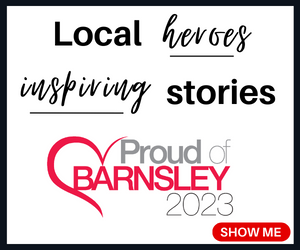 "I can remember it was 14 weeks and five days," said Lois, of Shireoaks Way, Grimethorpe.
"I'd just been for my gender reveal. I got back and had a really bad pain in my stomach.
"My brother has got Crohn's disease, so I thought I'd got that.
"I went to the doctor who said it could be irritable bowel syndrome (IBS) or health anxiety.
"My pregnancy was horrendous - I couldn't walk, I was so depressed, I contemplated even taking my life.
"The final straw came when I was just short of 38 weeks, and I went to the hospital and said if nobody takes this baby out of me, I'm going to kill us both.
"I knew it was cancer, it was just getting people to believe me.
"They didn't know how I'd managed to conceive.
"So, that's why I think he's a miracle."
Despite pushing for more investigation, such as a CA-125 blood test to check for ovarian cancer, and several trips to both her GP and A and E, Lois had to wait until Ray was born by Caesarean section to get a full diagnosis.
Doctors found cancer in her ovaries, peritoneum - the abdomen's lining - omentum, pouch of Douglas, and lymph nodes.
Lois hopes she can both inspire others and make sure they don't suffer like she has, and has created an Instagram account through which she wants to connect with people in similar places.
"I think they should've just looked into it," said Lois.
"If they'd have just have done that one test, it would have been investigated.
"I rang so many times and nobody answered me.
"But you know yourself and your body."
Now, every time she looks at Ray, Lois is overcome with a mix of emotions.
"I said to my partner, I can't do bedtimes.
"When I put them to bed and they're all asleep, I sit down and that's when the walls come in.
"And it's dark, that's the only way I can describe it.
"But I've done six rounds of chemo, I've had two lots of operations, I'm due to have my breasts removed.
"Take my limbs, I'm not bothered - if I could stay for the sake of my kids, I would.
"I don't want to be bitter. For all that wrongdoing, I want all my energy to have a purpose."
Lois said she wants to get married - and has even started wedding planning - and recalled a recent surprise trip to Castleton that Dale arranged in a Volkswagen camper where the couple 'just sat outside with the doors open'.
"I was happy, but at the same time it makes me so sad because I just think, how many more of these am I going to get?
"But I think at least if I die, I've accomplished what I want.
"I've got three gorgeous kids, and a loving husband, I hope.
"I want a little camper van so we can get away when we want.
"I'd say it gets easier, but since this fundraising Megan's done it's not been easy, because you don't expect so much love.
"If love could save me, I would live forever. People have been so kind."