A STROKE survivor who was told he would never be able to walk or talk again has defied doctors in his recovery - but gaps in his care have left his family wondering how much more he could have achieved.
It was believed Dave Paylor, 51, would remain bed-ridden and needing constant support afer being rushed to hospital following a sudden stroke in October, 2020.
Since then, his wife Julie said he's made 'amazing' progress - but a lack of support threatens to hinder his plans which include driving again and eventually returning to work.
Following the stroke, he was taken into acute care at Pinderfields Hospital, in Wakefield, where he received thrombolysis.
Julie, 54, of Beaulieu Close, Mapplewell, said: "They said to our son if he survives, he will probably have to be hoisted everywhere and he will never, ever be able to walk, talk or use his arms again.
"Dave being Dave, the fighter that he is, he came back."
Dave was transferred to Barnsley a few days later, then to rehabilitation through Kendray Hospital with him eventually being sent home in December.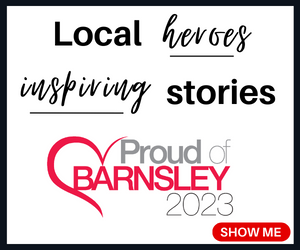 Julie said the couple had no qualms with the weekly home rehab her husband received, which covered speech, occupational therapy, and physiotherapy.
But they were told he would be discharged on June 22 - despite him making major progress - and a move to continued rehab could take up to 16 weeks.
Six months is typically the time when stroke survivors make the most progress - but Julie said there needs to be a shift to more person-centred care, rather than using that as a metric.
"They said they don't have people who were in such a severe state as Dave recover like he did.
"The treatment he received was absolutely first class.
"Without them, he wouldn't be where he is.
"I thought, it can't be right. It came to June 22, and the therapist left us with discharge letters.
"They all said with further therapy Dave would continue to improve to a level where he could return to work.
"I wrote to the Clinical Commissioning Group and Kendray Hospital.
"The response came back that there was no exceptionality."
Julie - who's since used her experience to chair a 'carer and survivor' panel at the South Yorkshire and Bassetlaw Integrated Stroke Delivery Network - spoke to a range of specialists and Dave's employer to gather evidence to respond to the CCG.
But she got the same reply.
"What they say is you get the six months, then you have to go onto a waiting list which can take up to 16 weeks, so for 16 weeks that stroke survivor is sat doing nothing and going backwards.
"Fortunately, he had me, and we paid for private therapy so we could keep it going.
"I learnt from the therapist, so I continued with the therapy - all the time thinking, 'this can't be right'."
Dave was moved onto community-based physio and occupational therapy in October, but speech therapy didn't restart until this January - and ended after just three months.
The couple were told bosses 'honestly didn't know' why there was such a gap before Dave's move to community care.
"That infuriated me. You've just messed with my husband's life here - when everything's in black and white from the people that actually did the therapy, not the people that just sit behind desks."
She's currently balancing working full-time with fighting Dave's case - and supporting his rehab by looking into more pioneering therapies such as virtual reality.
"Where could he have been if the therapy just continued?
"Why didn't they just keep that until it linked up with the other service?
"How many more people have just been discharged?
"How can you just dismiss somebody if they've still got goals to achieve and are still improving?"
A Barnsley CCG spokesperson said they were 'really pleased' to hear of Dave's recovery, adding: "Recovery from a stroke will be different for each individual.
"Continuous clinical assessments take place throughout to ensure that there is a clear clinical benefit to new or a continuation of treatment.
"The decision is based on a person's clinical condition and rehab potential."