A FORMER ketamine addict - who at his lowest point was suicidal, 'scared of living' and weighed just six stone - is using the story of his recovery to get more people talking about addiction.
Thomas Delaney was a teenager living in Thurnscoe when he was introduced to drugs for the first time, but those early years would begin a spiral that took up a decade of his life.
Now a 35-year-old public speaker and student living in Glasgow, he's attended all manner of conferences and settings - including Parliament, police events and a return to Barnsley College, where he first tried cocaine before being introduced to ketamine a couple of years later.
Drugs at first gave him the opportunity to feel 'more connected' to others while providing an escape from a traumatic upbringing. But that feeling was only temporary, replaced with an overriding addiction to ketamine which lasted from when he was around 21 until three years ago.
Describing himself as a 'highly-functioning addict', Thomas was able to secure a successful career as a business development executive. But at home, he was reaching 'rock bottom'.
"I was more scared of living than I was of dying," he said.
"I was sick to death of being in pain, of upsetting my family and ruining people's lives. I hoped it would kill me.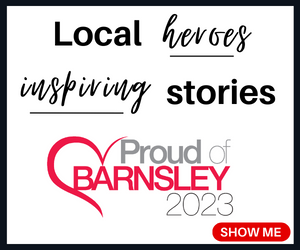 "I wasn't far off death. Before I stopped, I had to hit rock bottom.
"I didn't know who I was - I resigned myself to being a junkie who would probably kill himself."
An argument with his mother provided the 'Eureka moment' which sparked his motivation for change.
He was supported by charity Humankind and Barnsley Recovery Steps, which he said do fantastic work in the borough.
"It gave me the realisation that I was actually going to die, and I thought, 'I am better than this'.
"I realised I had the potential to do something with my life and I deserved to be happy.
"The hard part was dealing with the underlying issues - I think anyone who is an addict has gone through some adversity or trauma and it becomes a coping mechanism. I believe addiction is a learned behaviour.
"Society tells us that if you're an addict, you're a bad person - but that's not true."
Thomas believes more people struggle with drugs than they're willing to talk about.
"We've started to talk about mental health more now, but we should also be talking about addiction in the same way," he said.
"People confuse the two. If you are going out on the weekend and drinking and taking drugs, then in the week you're depressed, it's because you've got a very apparent drug problem.
"As soon as you say drug addict though, people immediately think 'junkie'.
"Barnsley has got a huge ketamine problem.
"But there's still something exciting about drugs - cocaine is never really demonised, it's glamourised.
"I lived in the right environment for addiction to thrive.
"I've met plenty of rich people who struggle with addiction - but it's easier for them to get support.
"It's also more likely that if you live in deprivation you'll have some sort of adverse childhood experience."
Thomas, now heading on to university after studying at Glasgow Kelvin College and working for the local authority, said his talks are 'quite raw' - and photos he took of himself weighing just six stone provoke shocked reactions from listeners. To prove anyone can overcome any obstacle, he's also planning to scale Mount Everest, the world's highest peak.
"When people see me, they tend to say 'you've never been a drug addict' - which is sort of a compliment - then I show them the pictures.
"Then they listen to me a bit more. I used to work in the corporate world - I would've never dreamed about talking to businesses about being an addict.
"I was very ambitious and successful, but ultimately damaged.
"When I weighed six stone, I wasn't just physically sick - I was mentally, emotionally and spiritually broken.
"Part of my therapy is the fact I talk about it.
"Addiction at that point of my life was the first thing I thought about when I woke up, and the last thing before I went to bed. I couldn't think about the future.
"At times, I was skint and had to beg. I'm not proud but I accept responsibility. I've lived it and come out the other side."