A NEW exhibition celebrating the 'jewel in Barnsley's crown' has opened at Barnsley Museums' new venue in the Glass Works.
A-Z of Eldon Street opened last Friday, highlighting the history of the nearby street, looking at the people and places that have helped shape its history over the last 180 years.
Eldon Street was first laid out in the 1840s and quickly became an important gateway to Barnsley, with the town's first ever railway station opening on the street in 1850.
The street now forms the link between the old town and the new Glass Works regeneration at the heart of the town centre.
Back in the day, the street was a commercial and cultural hub with busy theatres, shops, pubs and markets.
A-Z of Eldon Street exhibition is supported by the High Street Action Zone (HSHAZ) project and is funded by both Historic England and Barnsley Council.
The HSHAZ project is working alongside artists, students and communities in the borough to share creative ways of making Eldon Street a vibrant and bustling place, whilst also providing the high street with a positive future.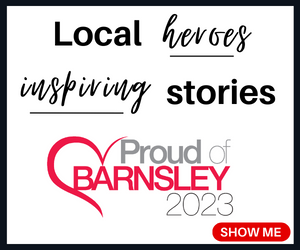 Coun Robert Frost, cabinet spokesperson for regeneration and culture said: "Eldon Street is a real jewel in Barnsley's crown.
"Its buildings, businesses and past all add to the character of our thriving town centre.
"The Eldon Street HAZ project will evaluate the street supporting businesses, culture, and local communities.
"This exhibition showcases the importance of the street's history while looking towards its exciting future."
It tells captivating stories of Eldon Street's past, and explores the businesses which once resided on the street
Upon the opening of the exhibition there was a series of street theatre performances in the Glass Works square performed by group Barnsley Unnaturalists, inspired by the fascinating stories that Eldon Street has to tell.
Julie Sanders, a visitor of the exhibition, said: "It's great to see that Barnsley Museums are working with the council to not only let us discover the history of our town, but also help Barnsley to become a better place.
"Eldon Street's always been a popular street, but over the years I've noticed a bit of a decline in it.
"I think it only becomes properly apparent when you come here and see what Eldon Street used to be like.
"It's really nice to see that the exhibition has been made so interactive, too - I noticed quite a few kids getting involved, which is lovely to see."
A-Z of Eldon Street will be on display until September 25.