CONCERNED medics will bring a walk-through exhibition to the town centre next week - after Barnsley was ranked as one of the worst-hit places in the country for lung cancer diagnoses.
The NHS-run Let's Talk Lung Cancer Roadshow is coming to the Alhambra Centre on Thursday, and features a pair of 12ft by 15ft inflatable lungs.
A specialist team of medics will be on hand to discuss the town's cancer rates and smoking prevalence in a bid to catch more cancers early and give people the best chance of successful treatment.
Community engagement teams will be on hand to talk to members of the public and encourage those with suspected symptoms to visit their GP as soon as possible.
The national average for adults who smoke is 13.9 per cent - whereas in Barnsley the rate is 18.3 per cent, despite multiple council-led schemes to reduce smoking within public places, school entrances, streets and parks.
Dr Muhammad Rahim Khan, respiratory consultant at Barnsley Hospital, said: "Lung cancer is common and is the leading cause of cancer death in the UK.
"Early diagnosis is the key to curative treatment but there may be no symptoms at this stage.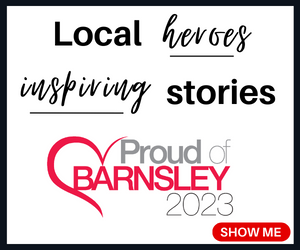 "Screening saves lives so it's important to get your lungs' health checked.
"A lifesaving diagnosis can begin with a simple conversation, and the NHS is doing everything it can to bring lung cancer to the forefront of people's minds."
According to an NHS survey, less than two-thirds of the public recognised a cough for more than three weeks as a possible symptom of lung cancer and almost a quarter of respondents said they would do nothing - or wait - if they had this symptom.
Only half said they would contact their GP if they had a cough for three weeks or more, despite this being a key symptom of lung cancer.
From now until March 2026, mobile scanning units will make their way across Barnsley in a bid to help detect lung cancer earlier, as well as identifying other conditions.
Dr Jason Page, clinical director of the programme, added: "The benefits of screening are clear to see - the programme is reducing the devastating impact that lung cancer has on hundreds of families across the region.
"Because lung cancer doesn't always cause symptoms at an early stage, it is frequently diagnosed late when treatment options are more limited, and survival rates are lower, but if caught early, it's much more treatable and the survival rate is much higher."