A COUNCILLOR 'rang the bell' last month when hospital staff told him he was free of cancer - and he's now encouraging people to see their GP as soon as they notice any changes in their health.
Coun John Clarke, who represents the Worsbrough ward, noticed changes to his health in 2012 and visited his GP to discuss his concerns.
His GP organised a chest X-ray which found a synovial sarcoma, a rare form of bone and soft tissue cancer, on his lung.
As he acted early on his symptoms, surgeons were able to treat his cancer by removing part of his lung, helping to stop the cancer from spreading.
Following regular monitoring of his health over the past ten years, Coun Clarke last month received the news that he is now in remission.
To celebrate this outcome, he and his wife were joined by Coun Sarah Tattersall, the Mayor of Barnsley, and Coun Roy Bowser in the Mayor's Parlour to mark the milestone of remission by ringing the bell.
John said: "I cannot praise and thank the surgeons, Weston Park and Barnsley Hospital enough for the treatment I was given - they were incredibly supportive throughout my journey.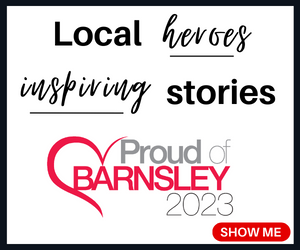 "I want to encourage anyone who notices any changes to their health to seek advice from their GP.
"While I know it can be frightening to have tests, it's not always bad news.
"My life has not been impacted by the treatment I've had, instead, it has allowed me to carry on doing the things I love with my family.
"Getting treatment early, like myself, can give you the precious opportunity to carry on enjoying life."